Interfor acquires Eacom Timber Corporation
&nbspMonday, November 29, 2021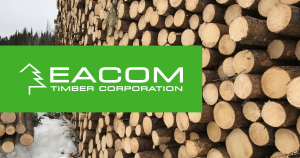 Interfor Corporation recently announces its deal signed with Eacom Timber Corp. They officially announced that it has reached an agreement with an affiliate of Kelso & Company to acquire 100% of the equity interests of EACOM Timber Corporation.
"This transaction will allow our team to write its next chapter as part of one of North America's best lumber companies," said EACOM's president and CEO Kevin Edgson. "Interfor's operational excellence, financial strength, customer relationships and North American-wide portfolio will provide substantial opportunities to our people and our stakeholders. Our companies have shared values, including a commitment to safety and environmental responsibility and we are thrilled to be a part of Interfor's continuing growth ambitions."
This transaction with Interfor increases its total lumber production capacity by 25%. Interfor capacities will be nearly 5 billion board feet across 28 sawmills, with multiple secondary manufacturing facilities and 4,600 employees. Interfor is committed to growing EACOM and the region where it operates over the long term and to continually invest in the competitiveness of the EACOM operations to the benefit of all stakeholders.
EACOM Timber Corporation is one of the major Eastern Canadian wood products company. Operations include the manufacturing, marketing, and distribution of lumber and wood-based value-added products, and the management of forest resources. Interfor is a growth-oriented forest products company with operations in Canada and the United-States. Jointly the company will reach new heights. The Company has annual production capacity of approximately 3.9 billion board feet and offers a diverse line of lumber products to customers around the world.
Tags: Canadian wood products, Interor, wood products, woodworking and manufacturing, woodworking industry, woodworking USA