IWF Atlanta- All in One
&nbspThursday, May 5, 2016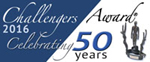 IWF is a platform to reveal the talents and innovations. As the show is coming soon, it is going to offer variety of platforms to showcase the latest and best and moreover, the show is going to conduct an award show where one could get the chance to distinguish them by developing innovative technology in products. The exhibition is also concerned about the students who are willing to join and participate in this show to expose their talents.
Take a glance on What to See in IWF this year:
The IWF Challengers Distinguished Achievement Award Finalist Gallery
IWF 2016 will mark the 50th Anniversary of the The IWF Challengers Distinguished Achievement Award®. The Challengers Award has become known throughout the world for recognizing outstanding companies who have distinguished themselves by developing innovative technology in products, services, or manufacturing techniques that will advance the industry.
A panel of 8 distinguished judges, whom are all industry professionals representing a broad cross-section of the industry will review and analyze each entry. Final judging will take place the day before IWF 2016 opens.
On that particular day, the finalists perform live demonstrations for the panel of judges, who then make their final decisions on the most innovative product development. The Finalist will be on display in the The Challengers Award Gallery throughout the duration of the show and will be located in Building B on the Exhibit Hall Level.
Design Emphasis Student Furniture Design Competition Gallery
The Design Emphasis Showcase at IWF is a "must see" at the International Woodworking Fair. Located in Building A on the Exhibit Hall level, this gallery displays furniture pieces designed and built by students from colleges and universities throughout the United States are on display at IWF.
Design Emphasis is widely acclaimed as the foremost furniture design competition for students and offers design students a unique opportunity to demonstrate their talent and originality before a judging panel of furniture industry designers, manufacturing and retail executives, and members of the trade press who have design-oriented backgrounds. It also provides a unique chance to experience an international industry trade show, make important career contacts and exchange ideas with other students from around the nation.
The New Product Showcase
The New Product Showcase is a special area where attendees of IWF 2016 are able to stop and preview the latest developments in products and product lines in machinery, supplies, services, and upholstery that have been introduced since IWF 2014.
The New Product Showcase will be located in Building B on the Exhibit Hall Level.
Technology Theatre
The IWF 2016 Technology Theatre offers attendees the opportunity to sit in on presentations from IWF Exhibitors on products, services, and the latest technological advancements. It will be located in Building B, Exhibit Hall Level within the New Product Showcase and Challengers Award Finalist Gallery.
Tags: award show, furniture design competition, innovative technology, IWF Atlanta, product showcase, products, technology theatre