IWT introduces APEX Fortified Lumber
&nbspMonday, September 18, 2023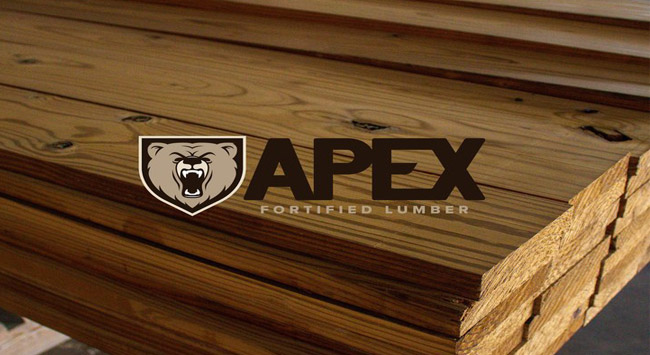 Industrial Wood Technology (IWT) introduces APEX Fortified Lumber, the company's thermally modified lumber product that is stronger, lighter, and more stable than treated lumber and other lumber products. This product has all the benefits of pressure-treated, lumber. The thermal modification process that is used by IWT removes all the attractants and nutrition sources that allow mold, insects, and other organisms to grow. This process therefore stops the decay of the normal lumber. Expressing his thoughts about the benefits of the innovative product Kyle Gillin, president of IWT said, "Innovation was the founding principle of IWT – it's what brought us Blackwood and it's what has driven us to revolutionize the trailer decking industry again with APEX."
IWT also plans to produce residential and commercial decking, siding, and trim products under the APEX product line. For trailer decking, APEX offers a cutting-edge solution for the problems that are seen in the case of traditional trailer decking options. Gillin further said, "APEX solves the never-ending issue with trailer decking of shrinkage, which causes boards to warp and bust through the fasteners on trailers. With APEX, there's no more of that. These boards are stable."
APEX also solved the problem of faded and gray trailer decks. With all the effective coating one need not worry about the sun fade and color loss. The APEX fortified lumber developed by the Industrial Wood Technology (IWT), no doubt solves some of the crucial problems that have plagued the industry for decades.
The thermal modification process makes APEX stronger by densifying the cellular structure and lighter by removing the moisture content from the lumber. Once the lumber reaches the target moisture content, the cellular structure is locked, making APEX more stable and eliminating twist, warp and crook. APEX is ideal for any application that requires strength, stability and chemical-free resistance to rot and decay.
IWT is also partnering with ATW to provide APEX as a top-of-the-line trailer decking product for the company's trailer brands, PJ Trailers, and Big Tex Trailers. IWT and ATW have worked collaboratively for multiple years to give birth to some of the most innovative products. Marc-Andre Dubois, Senior Vice President of Marketing at ATW also expressed his pessimistic view about this prospective partnership, which encourages both the company to take their mission further. With the aim to be the largest producer of thermally modified lumber in North America, the company introduced the APEX that might turn out to be standard equipment on all Big Tex and PJ equipment, tilt deck, deckover, gooseneck, and car hauler trailer models.
Tags: Industrial Wood Technology (IWT), wood, wood and panel, woodworking, woodworking and manufacturing, woodworking industry, woodworking USA