Jen Netherwood titled Irwin Tool Tradesman Winner
&nbspTuesday, September 22, 2015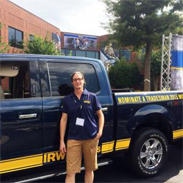 Woodworking collection and a 2015 Ford F-150 Truck were awarded in IRWIN Tools 'Nominate a Tradesman' competition, that named Jen Netherwood leader in an initial annual endowment that acknowledges superb tradesmen for their contributions within their margin and community. Netherwood worked with internal village colleges on a jail pre-apprenticeship module to keep a module using after appropriation was cut.
IRWIN Tools, owner of National Tradesmen Day, is commencing a fifth anniversary of a eventuality with a first-ever crowning of a "Nominate A Tradesman" winner. National Tradesmen Day recognizes a overworked group and women who make a certain impact on a expansion and expansion of their communities, while also lifting recognition of a necessity of learned laborers in America. To strengthen this message, IRWIN launched a Nominate a Tradesman foe to acknowledge these superb tradesmen on a monthly basement and name one of these professionals as an ultimate leader for their contributions within their margin and community.
"We saw a need to commend a group and women in a trade attention who minister to a expansion and enrichment of a communities everyday," pronounced Rich Mathews, Senior Vice President, IRWIN Tools. "National Tradesmen Day has successfully brought recognition and appreciation to these professionals for a past 5 years and a Nominate a Tradesman foe furthers this initiative. We've comparison Jen as a honoree since she embodies what this day represents by her loyalty to her village and a certain changes she's done in her industry. We're unapproachable to have her as a initial leader of this competition." He concluded.
The first-ever leader of a competition, Jen Netherwood is a carpenter of some more than 11 year, who grown a free pre-apprenticeship module for women in correctional facilities. The pre-apprenticeship module provides these women with profitable and commercial skills to promote their transition behind into a workforce. Netherwood was respected on Thursday, Sep 17th, during a crowning rite during a IRWIN Tool's domicile where she was awarded a 2015 Ford F-150 Truck, along with new IRWIN tools.
Tags: irwin tool, jen netherwood, national tradesman day, tradesman winner