Jozsef Kuthy
&nbspMonday, January 31, 2022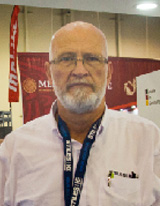 In a candid conversation with us, Jozsef Kuthy, Regional Area Manager, Homag North America (Stiles, Mexico) bares his heart on Magna Expomublera, Latin American market, Industry 4.0 and more.
---
2016 has been a very successful and exciting year for Stiles, if you can sum up 2016 in a nutshell.

STILES: The 2016 was an exciting year, with lots of new equipments and the traditional crisis expectations from Mexico that at the other hand opens a world of opportunities, in resume it was beyond our expectations.
How was Magna Expomueblera for Stiles Machinery? Were your expectations met?

STILES: The Magna show was as expected, identical to the past years, a very poor show and behind low of our poor expectation, in general shows in Mexico need to do a lot of work, until today we don't have official information or realistic numbers from the show and by the show managers.
Talking about that, tell us about your presence in the Latin American market

STILES: We deal in Mexico, from time to time we have clients from Latin America coming up to hear but this is casual
You have expanded your sales and service offerings to Mexico. What was the need? And since it's almost a year to the opening, how has been the response from the customers?

STILES: Last year was exciting and new, the goals where accomplish beyond expectations, this year has started a bit slower than last year but we blame it on the new team and new objectives and targets.
Industry 4.0 is now the buzzword of the industry. How is the demand of integrated manufacturing in this part of the globe?

STILES: This new Industry 4.0 is very interesting but it will take longer to develop in Mexico, this country is rejected to the new technologies and it like to see that in other parts is performing good before it hold on to them, sometime this takes too long to be implemented in the mind of Mexican managers.
What is your take on the new claim of "YOUR SOLUTION" by Homag Group

STILES: Education is a main necessity in Mexico and some of the Latin America countries, we are focused on showing our clients how to fish and not bringing the fish itself, this takes longer but will let something to the developing countries, Latin America countries have been always abuse by the first world countries, is time to give something back.
Which are the most loved products of Stiles Machinery? In this regard, if you can tell us about the demand of Made-in-Germany technology here?

STILES: In general all the German made products are well recognized in America, Mexico has a special recognition of German products never the less also is always complaining about prices and that is way they go to the cheaper products.
What are plans going forward in 2017?

STILES: Looking forward to accomplish our goals, improve and educate our sales and service team and first of all work with our clients through education, education, education.
Tags: Homag North America, Jozsef Kuthy, Stiles, woodworking and manufacturing, woodworking USA