Lockdowel at AWFS
&nbspWednesday, July 22, 2015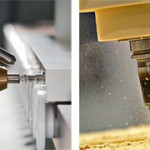 Lockdowel is the revolutionary, tool-less, fastening system that enhances production efficiency and simplifies assembly.

Major machinery manufacturers are producing automated solutions for the Lockdowel System; Biesse, Gannomat and SCM all have CNC boring and insertion equipment and/or CNC machining centers engineered for production using Lockdowel fittings.
At AWFS in Las Vegas, SCM will showcase the new Lockdowel/Omal Insert 1300. This CNC boring and insertion machine provides cost-effective, precise, repeatable placement of Lockdowel hardware. It is capable of edge-boring and insertion as well as face-boring of the workpiece. The Insert 1300 has a capacity of up to 180 panels per hour.
Gannomat will demonstrate two Lockdowel-capable machines, the Index Trend for CNC edge-boring and hardware insertion and the Express S1, capable of face-boring and insertion.
The evolution of the Lockdowel System continues as customers and machine tool engineers realize how simple the fastener is to use – both for commercial work such as cabinets, casegoods and store fixtures – as well as consumer-oriented RTA furniture.
Lockdowel is already part of the Cabinet Vision hardware library. The fastener is also being designed into other major CAD software packages. With increased demand from the manufacturing side, other machine manufacturers are also modifying their existing CNC equipment to support Lockdowel.
The patented Lockdowel fastener is ideal for cabinets, casegoods, RTA furniture, drawers, closets, store fixtures and much more.
Tags: awfs, Gannomat, lockdowel, Lockdowel fittings. Biesse