Lockdowel one-click drawer slides makes life easier
&nbspFriday, July 29, 2022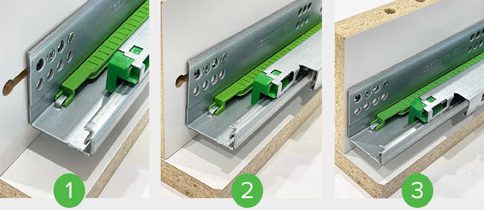 The fastest drawer slide installation is now possible with new Lockdowel one –click slides. Lockdowel's one-click drawer slides make the process simple, accurate, and incredibly fast. They come with our factory-installed, patented ChannelLock fasteners.
These drawer slides are the fastest solution on the market and require no tools. The 3D adjustor clips makes the undermount alignments perfect. Simply insert and slide forward to complete. It's that easy! No glue, no adjustments, no regrets.
Lockdowel will be at IWF to demonstrate their one-click drawer slides and all of the patented ChannelLock fastener system products that offer remarkable savings in time and labor. Everything is easier with Lockdowel.
Lockdowel increases business profit by providing a fastening solution to simplify the assembly and installation of cabinets, closets, furniture, and other woodworking applications. Lockdowel Eclips fasteners can be installed automatically or manually. They require no glue, screws or tools for assembly or installation, and are invisible once installed. Cabinets and furniture made using Lockdowel fasteners pass all ANSI/BIFMA tests and provide very strong joints. Lockdowel's fastening solution is AWI tested and approved to Duty Level 3 and has passed KCMA testing. Customers report reducing assembly labor time by 40% to 60%, with assembly speeds averaging less than 3 minutes per cabinet.
Training new personnel is just as easy – in less than an hour new hires are able to build cabinets on their own. For customers who wish to flat-pack, Lockdowel is perfect, enabling the lowest cost shipping possible to the on-site job build. Warehousing flat-packed also occupies the least amount of space with minimal damage to finished goods. The company also offers the Visionary Award winning Drawer slide line and hinges, which utilize the patented Lockdowel ChannelLock assembly technology. Their new One-Click sidemount and undermount 3D adjusting slides enable a rapid slide-and-click drawer slide installation time similar to the time it takes to fasten a seatbelt. Automated CNC boring and insertion solutions for EClips are available from premier machinery manufacturers and leading software libraries.
Tags: 2022, ChannelLock, drawer slide, IWF Atlanta, lockdowel, Lockdowel fittings, woodworking and manufacturing, woodworking and processing, woodworking USA