Martin Goebel's Contract Furniture Line at Neocon 2015
&nbspTuesday, June 9, 2015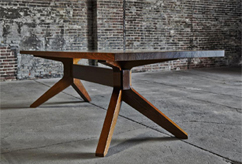 Martin Goebel, Co-founder of Goebel & Co. Furniture located in St. Louis, will debut his contract furniture line at Neocon 2015, which will be held from June 15 to June 17 in Chicago at the Merchandise Mart.
Gloebel's showroom will be the 7th floor of the Merchandise Mart in Suite 4015. His featured products will include: Opus bench, Cruz Facet product line, Eads tall table, Dempsey task table and the Aleck bench.
Winner of Woodworking Network's inaugural 2014 Young Woodworking Pro Award, Goebel is known for his 3D designs, and he was a speaker at the 2015 Cabinets & Closets and Conference and Expo.
Tags: martin goebel, neocon 2015