Mastercam to Showcase their X9 and Dynamic Motion in WESTEC 2015
&nbspTuesday, August 11, 2015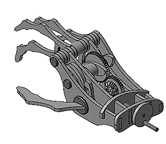 WESTEC 2015 attendees will get to see and experience the most powerful Mastercam machining software yet. Westec, which will be held at Los Angeles Convention Center in Los Angeles, CA, September 15-17 for a look at Mastercam X9 which introduces Dynamic Motion improvements, Multiaxis enhancements, and many Design and System features to make your job easier. There will be live presentations every 30 minutes on Mastercam products, available in both English and Spanish.
Dynamic Motion Technology:
Dynamic Motion Toolpaths follow a proprietary and sophisticated set of rules that take into consideration a broad data set. To create the most efficient cutting motion possible, Dynamic toolpaths calculate not only the area where metal will be removed, they also take into account the changing condition of the material throughout various stages of machining.
This year at WESTEC, attendees have the opportunity to register for a Mastercam X9 Rollout Event, hosted by CNC Software and local Mastercam Reseller, to learn about the latest tools in Mastercam X9. Also available are three Brew & View breakout sessions located at the main stage of the show floor. Topics are:
• The Evolution of CAM: An Introduction to Mastercam's Dynamic Motion
• Machining Way Too Fast: A First Experience Jumping into Mastercam Dynamic Motion
• Speed vs. Power: Maximizing Material Removal with Mastercam's Dynamic Motion
Tags: dynamic motion technology, mastercam, westec 2015, X9