MEM INDUSTRIAL 2023 –wait is over
&nbspWednesday, March 8, 2023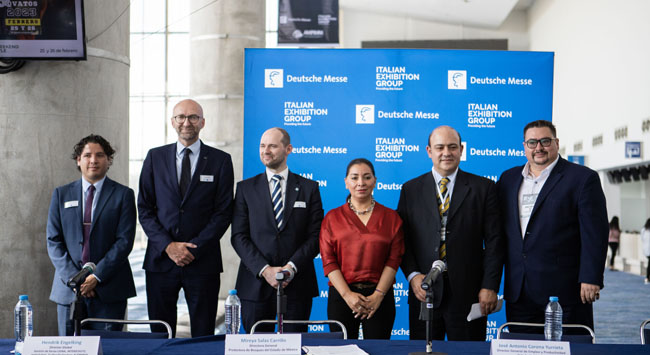 Innovations once again came to life at MEM Industrial as it kicked off on March 7, 2023 with a vision to create interesting business opportunities. The trade fair is scheduled between March 7 to 9, 2023, and is taking place at the Citibanamex Center, Mexico City. MEM Industrial is Mexico's most important business platform for the wood processing and furniture manufacturing industry. The trade fair attracts visitors from the woodworking and wood construction sectors as well as furniture manufacturers from Mexico, and Central and South America. This creates interesting opportunities for machinery and equipment manufacturers as well as manufacturers from the accessories and fittings segment.
MEM Industrial is Latin America's leading trade show for woodworking technology, tools and supplies, for the cabinetry, furniture and forestry industries that kicked off on March 7. This edition of MEM 2023 offers a greater added value with an educational program parallel to the exhibition that includes master conferences, workshops and talks from first-level experts, national and international.
"At the opening ceremony, we were honored to have the presence of prominent industry leaders, such as Hendrik Engelking, Global Director of Fair Management LIGNA, INTERSCHUTZ, parts2clean, SurfaceTechnology GERMANY, Mireya Salas Carrillo, Director General of the State Forest Guard of Mexico, Bernd Rohde, CEO of Italian German Exhibition Co. Mexico, Jose Antonio Corona Yurrieta, Director General of Employment and Productivity, represented by Maribel Góngora Espinosa, Secretary of Labor of the State of Mexico, and Marco Antonio Ruiz Ruiz, President of the National Chamber of Wood Industry, CANAINMA.''
Focus Themes- 2023 edition
Innovation
At MEM Industrial, the focus will be on the solutions and innovations both present and future that help improve the industrial processes involved in the woodworking and furniture sector.
Circular economy
Sustainability is a priority of the time as everyone seeks to safeguard the future of the planet. And, the transition from a linear to a circular economy in the furniture sector demands far-reaching changes, from suppliers and production processes to more ecological designs. At MEM Industrial, the importance of adopting a sustainable, circular economy in the furniture industry will be addressed.
Design
Design is one of the most important phases in the furniture manufacturing process, one on which a product´s success or failure often hinges. Good design encompasses comfort, innovation, aesthetics, availability, exclusivity and, nowadays, sustainability. As a showcase for the industry´s leading global design trends, MEM Industrial is the perfect networking platform.
Tags: 2023, MEM Industrial, Mexico, trade fair, woodworking and manufacturing, woodworking event, woodworking industry, woodworking USA