Metabo HPT introduces new circular saw
&nbspSaturday, January 7, 2023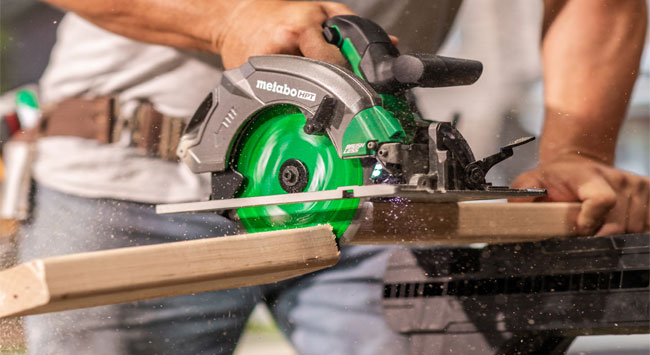 Metabo HPT introduced the new 18V MultiVolt 7-1/4 inch cordless circular saw, model C1807DAQ4. The 18V MultiVolt 7-1/4 Inch Cordless Circular Saw (C1807DAQ4) is inspired by the requirements of professionals and features a new powerful and lightweight design. This saw can effortlessly cut through numerous layers of plywood and OSB sheeting thanks to its 40% higher maximum thrust force and 2-7/16″ cutting depth. This high torque results in an astounding power to weight ratio, which is up to 8% lighter than leading cordless sidewinder circular saws. The combination of this well-balanced saw with the renowned ergonomics and blade right sight lines of Metabo HPT results in a cutting experience that is hassle free and reduces user fatigue.
Lifetime Lithium-ion Tool Body Warranty from Metabo
To deliver the torque and RPM required for jobsite cutting applications, the effective brushless motor can be supplied by an 18V or 18V/36V MultiVolt battery. On a single charge, it has enough power to cut 200 2x4s. With its 55° bevel range, soft start, electric brake, LED work light, dust blower, on-tool blade wrench, and kickback protection, the C1807DAQ4 7-1/4″ cordless circular saw is the perfect tool for general contractors, carpenters, roofers, framers, siders, concrete form workers, and DIY users. The new VPR 24 teeth framing blade, a 5mm hex bar wrench, and a dust collection adaptor are also included with this 18V MultiVolt 7-1/4″ cordless circular saw. And the icing on the cake – the purchase of this saw is protected by the Lifetime Lithium-ion Tool Body Warranty from Metabo HPT.
The expanding MultiVolt system of power tools from Metabo HPT includes an 18V circular saw. Go farther and lighter with 18V batteries, or go longer and more powerfully with the special MultiVolt battery, which is compatible with both 18V and 36V tools.
Tags: circular saw, cutting, lightweight, Metabo, Metabo C1807DAQ4, Metabo HPT, OSB sheet, plywood, powerful, woodworking, woodworking and manufacturing, woodworking industry, woodworking USA