MiCROTEC artificial intelligence offers real advantages
&nbspWednesday, January 25, 2023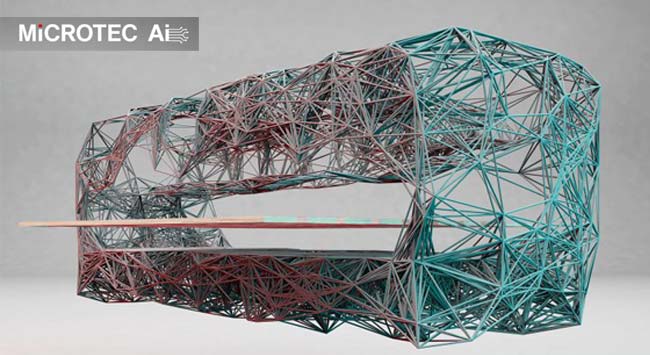 With the acquisition of US scanner specialist Lucidyne Technologies, MiCROTEC has taken a big step forward in the field of artificial intelligence (AI). The company has pooled the AI knowledge of its various branches – from Italy, Finland and Sweden to America – and integrated the MiCROTEC Ai deep learning platform into all MiCROTEC quality scanner solutions, thereby offering customers even better sorting results.
"We are bringing the AI knowledge of all MiCROTEC branches and the existing MiCROTEC technologies together in order to take the possibilities of deep learning AI in the timber industry to a new level." Patrick Freeman, CTO of MiCROTEC
"We have been working with artificial intelligence since 1987. Already five years ago, we built the first industrial scanner as a complete solution using deep learning AI technology," Freeman tells us, who was CTO of the company until the acquisition by MiCROTEC two years ago. Today, Freeman is MiCROTEC's Group CTO and currently in the process of pooling the AI knowledge of MiCROTEC's various branches on one platform, thereby taking the possibilities of deep learning AI in the timber industry to a new level.
One step ahead
According to Freeman, the key to the successful use of deep learning AI is a large amount of the right data, the right tools and a team of the right people who know what needs to be done. "In 2012, AlexNet, the best-known deep learning convolutional neural network, was launched for the processing of image data. We wanted to introduce this new technology to the timber industry as quickly as possible, at which we succeeded. Ten years ago, students developed AlexNet. Today, we have an experienced team and a large data pool to draw from. Thanks to these framework conditions, we are one step ahead today," Freeman tells us and adds that the handling of AI also plays a key role: "We have made the use of the deep learning AI as simple as possible for customers. Our web-based application QCassist supports them and us in the automated collection of data, which are then used to train our networks."
For all scanners
Deep Learning AI is now part of all MiCROTEC products, whether they are designed for log wood, lumber or planed timber. "Everyone knows 'Intel Inside' in connection with computers. We could call it 'MiCROTEC AiInside'," Freeman says, drawing a comparison. For the CTO, this includes all scanner solutions by MiCROTEC Linköping (formerly WoodEye) and MiCROTEC Espoo (formerly FinScan). "Some of the characteristics of wood are easier to recognize and don't require AI. As for the rest, AI will help us and customers achieve even better sorting results in the future," Freeman explains.
Tags: MiCROTEC technologies, wood, woodworking, woodworking and manufacturing, woodworking industry, woodworking USA