Microvellum organizes an useful conference
&nbspWednesday, February 10, 2016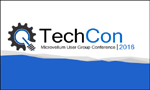 Microvellum is pleased to invite all to attend the User Group Conference that will be held from April 21 to 22, 2016 at the Microvellum's headquarter offices Central Point, Oregon. The User Group Conference (Techcon) is a unique forum for users to share ideas, receive training on new products; stay informed of future product developments and Microvellum news and is open to all Microvellum user and partners.
Techcon is a perfect platform to get ideas on technical subjects of upcoming products. Take a glance of the benefits of this conference:
• Review the latest product developments, before they go live to the general public
• Try the new Extruded Product Builder technology
• Network with other Microvellum users
• Discuss and vote on product changes and enhancements
• Communicate directly with Microvellum Technicians, Developers and Account Managers
• Participate in specialized training activities
With so many great activities and learning opportunities planned, the multi-talented platform is going to offer you energized and excited experience ahead.
Tags: april, central point, MICROVELLUM, oregon, user group conference