Microvellum reveals new innovative technology at KBIS 2017
&nbspMonday, February 6, 2017
At KBIS 2017 trade show in Orlando, Florida, Microvellum unveiled their latest release of Fluid Designer, with special focus on kitchen & bath design. The project, led by Andrew Peel, grown into what some are calling "one of the hottest new design platforms available" for kitchen & bath and closet design.
"We wanted to provide our users with a unique experience. One that was refreshingly different, easy-to-use, and most importantly, provided unmatched quality and flexibility in terms of UI and design…" says Clay Swayze, Microvellum's Director of Marketing. "Earlier this month at the KBIS show in Orlando, we made quite a 'splash' with the introduction of our Blender-based, Fluid Designer software. The show was a success on many levels for us and we are looking forward to returning in 2018." continued Swayze.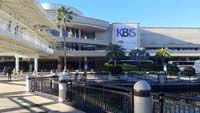 Microvellum's Fluid Designer software is a kitchen & bath, and closet design solution that provides users with the tools to layout, render, animate and present interior spaces. From the user interfaces, workflows and products catalogs, Fluid Designer is a customizable solution that will help one's team sell more.