Microvellum organizes Live-Webinar Event
&nbspWednesday, November 15, 2017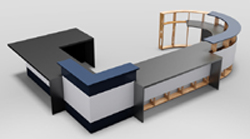 Microvellum is organizing another Live-Webinar event which starts from today.
Microvellum is inviting to join them as they are going to explore the benefits of Microvellum's Solid Modeling Tools for building complex products. They will show one how one can work from architectural sections to create millwork walls, reception areas, and a wide variety of other custom products using Microvellum's advanced tools for solid modeling.
Here's what Microvellum will discuss:
•    A close look at the new Solid Modeling Tools user interface
•    How to use architectural section views to engineer custom products in minute
•    Exploring the intelligence behind the Smart Layer Technology
•    How to automate corner construction of millwork walls
•    Append existing AutoCAD solids to one's model
•    How to analyze and convert one's models to CNC-ready Microvellum products
•    Create custom cabinet carcasses, furniture, closets and more using the Custom Tools interface
Microvellum's Solid Modeling Tools are saving customers countless engineering hours. Most users are reporting a time savings of 70% or more when compared to their previous processes.
One can experience the difference for themselves this Wednesday on Nov. 15.