Milwaukee wows with M18 Fuel Hatchet Pruning Saw
&nbspMonday, December 19, 2022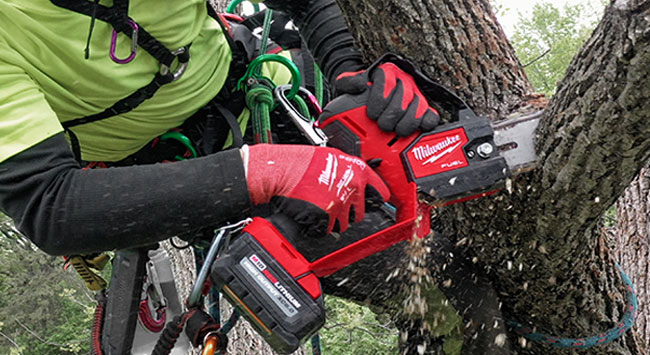 Milwaukee launched its latest- the all new M18 Fuel Hatchet 8″ Pruning Saw that delivers increased control & access, has the power to cut hardwoods, and is the fastest cutting pruning saw. The professional arborist, landscape care specialist, and power utility linemen were all considered when designing this pruning saw in terms of ergonomics, performance, and durability. The cordless pruning saw offers better control and maneuverability in difficult-to-access locations and weighs less than 5 lbs without a battery. To finish difficult cuts faster than 25cc gas, the Powerstate Brushless Motor maintains speed under heavy loads without bogging down. Full-circle communication between the tool and battery is made possible by the Redlink Plus Intelligence, providing unrivaled performance, protection, and productivity levels.
Full house chain minimizes vibration and delivers clean cuts
The saw can reach maximum throttle in less than one second thanks to M18 Fuel technology, and it has a variable speed trigger for the most precise control over the power range. Lanyard loop, complete house chain, easy access chain tensioner, automated oiler, metal bucking spikes, onboard scrench storage, lanyard loop, and climbing scabbard are some of the characteristics of this pruning saw. The M18 Fuel Hatchet 8″ Pruning Saw is completely compatible with more than 250 M18TM system options.
Hardwood cutting is made easier by the Powerstate Brushless Motor. The Redlink Plus Intelligence, and Redlithium battery delivers the power and performance of a gas engine up to 25cc. This pruning saw has a more compact footprint than typical chainsaws, an ergonomic handle, and weighs less than 5 pounds without a battery, making it easier to maneuver in tight places and control while cutting, allowing for greater access and control. Additionally, this battery-powered saw increases productivity by allowing users to complete more cuts per day than a 25cc gas pruning saw.
Read more news on Milwaukee
Tags: hardwoods, M18 Fuel Hatchet Pruning Saw, Milwaukee, tools, woodworking, woodworking and manufacturing, woodworking event, woodworking industry, woodworking tools, woodworking USA