Missouri Builder Elected as Chairman of NAHB
&nbspFriday, January 23, 2015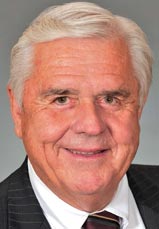 Tom Woods, a Blue Springs, Mo.-based home builder with more than 40 years of experience in the home building industry, was elected as the 2015 chairman of the National Association of Home Builders (NAHB) during the association's International Builders' Show in Las Vegas.
Woods is president of Woods Custom Homes, a company he founded in 1974. His firm has developed scores of communities and more than 1,000 homes in the Greater Kansas City area.
"To keep the housing market moving forward and spur job growth, NAHB will urge Congress to enact housing finance reform that includes a federal backstop so that the 30-year fixed-rate mortgage remains readily available and accessible. We will also work with lawmakers to protect the mortgage interest deduction, the Low Income Housing Tax Credit and other tax code measures that benefit housing and continue to fight onerous regulations that hurt consumers, home builders and remodelers."
Woods has been active in the NAHB leadership structure at the local, state and national levels throughout his career. He has served on NAHB's Board of Directors since 1983 and has been a member of the NAHB Executive Board since 1996.
He has also chaired some of NAHB's most important and influential committees, subcommittees and task forces, including Federal Government Affairs, State and Local Government Affairs, Education, the Home Builders Institute and BUILD-PAC, NAHB's political action committee.
Woods served his local community as the mayor of Blue Springs, Mo. from 1978-1981 and was a member of the Blue Springs City Council from 1975-1978. He received a presidential appointment to serve on the Des Moines Federal Home Loan Bank Board from 2002-2005.
Woods was elected president of the Kansas City HBA in 1991 and was selected by his peers as Kansas City's Builder of the Year in 1995. He received a national achievement award from Professional Builder Magazine in 1999 for his work in education in the home building field while chairing the Home Builders Institute, the workforce development affiliate of NAHB.
Tags: Tom Woods, Woods Custom Homes