New simplified User Interface from KCD
&nbspThursday, July 13, 2017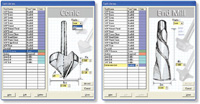 Going directly from custom cabinet and closet design to CNC production is made faster with KCD Software's simplified user interface. Visual illustrations allow the user to quickly select manufacturing tools and input specific tool measurements and sizes. Selecting inches or millimeters and checking measurements visually eliminates errors and speeds set up time. One-Button CNC machining is quick and intuitive for the designer or builder to understand and visually informative at a glance, eliminating the need for training courses.  

After an easy set-up, "Going to the router with KCD Software is flawless," say Jim McAsey of M&M Cabinets in Shorewood, Illinois.
Jim has been a CNC user since 1991. Prior to using KCD Software Jim had some rough experiences working with other [major] software manufacturers. Working with KCD has changed his experience.  "KCD has simplified the process in a way that really meets our needs," says Jim.
KCD Software's Team facilitates a smooth transition for users of both new and existing CNC equipment to coordinate sample G-code and help them set up their favorite building methods within the software. There is no charge for this service or the free ongoing technical support offered, making the company interface extremely user-friendly and efficient, too.
KCD Software is an award-winning manufacturer of custom software designed to facilitate woodworkers, designers, builders and renovators of cabinetry and closets. For 30 years KCD Software has been developing software to design, price, and build cabinets and closets for both traditional and CNC Construction. This is backed by free technical support and a commitment to each customer's success.