Next Wave Automation to feature CNC Solutions at IWF
&nbspThursday, August 23, 2018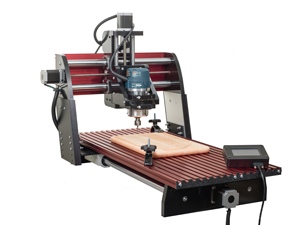 Next Wave Automation is going to promote their innovative CNC solution at IWF.
CNC Shark II
The All New CNC Shark II is now comes with Color Pendant Controller features a heavy duty gantry reinforced with plate aluminum and a rigid interlocking aluminum table. It has anti-backlash, wear-compensated high precision lead screws on all 3 axis and is built to handle your large 2-1/4HP routers such as the Porter Cable 890 series, Bosch 1617 series or the new water-cooled spindle from Next Wave Automation. (Spindle and Router motors are sold separately)  To accommodate even greater torque levels, it features adjustable bearings to give more stability during heavy cutting. This product is perfect for carving and machining a large variety of projects made from wood, soft metals or plastics. One has to simply supply a PC computer with USB 2.0 port and any of the routers listed below, connect the USB cable to the controller box and load the software. VCarve Desktop V9 Design software, Vector Art 3D Sampler Pack, and CNC Shark control software are also included.
This Shark is Built Like a Tank and also includes the NEW Virtual Zero software. (Touch Plate required)This CNC SHARK exclusive software "maps" the surface of your table or workpiece and uses the map as a dynamic reference point. This eliminates problems caused by warped or bowed workpieces and small inconsistencies in the table. It also allows you to carve and machine stock that is intentionally convex to begin with. A new electronics package expands the capabilities of the CNC Shark and allows attachments like Laser, 4th Axis, and water cooled spindle control.