Novimat Compact – the highly productive edging machine from IMA
&nbspTuesday, August 2, 2016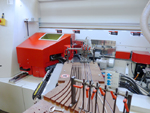 With the smallest NOVIMAT edge gluing machine from the IMA product portfolio, ambitious artisan companies are well equipped to meet the challenges of increasing material diversity, high quality standards and productivity. The high-performance machines, which are suitable for diverse applications, feature outstanding repeat accuracy and high cost-effectiveness. They are equipped with a gluing unit, a profile scraper unit and a swing-arm copy milling unit SKF (L12) or copy milling unit KFA (R3).
In addition, the basic machines can be optimised with numerous options, including a manual infeed table and automatic granule feeding. NOVIMAT Compact edge gluing machines, which are designed for the processing of roll and strip material, also have a free space for integration of an individual finishing unit for groove cutting, sanding or polishing. Genuine zero joint laser edging, The machine can optionally be equipped with an IMALUX direct laser system for zero joint edging and a premelting unit for EVA and PU glue. The robust, quiet and energy-efficient IMALUX system guarantees maximum process reliability, creates excellent joints and offers an outstanding cost-effectiveness ratio.
If IMALUX is installed, the control terminal allows the user to switch between laser zero joint and edge gluing with EVA/PU. This is achieved at the push of a button, with no set-up activity and no loss of time. This also means that no prior knowledge of laser technology is necessary. The fast and easy switch between the technologies of gluing and laser joining is ideal for smaller companies with small batch sizes and changing amounts of zero joint work that have to respond flexibly to customer requirements. The system achieves a maximum feed rate of 20 m/min and is available in two performance versions: IMALUX AH30 for workpieces with a maximum thickness of 28 mm and IMALUX AH47 for workpieces with a maximum thickness of 45 mm.
The core of this new technology is a compact, robust VCSEL laser module from Philips. Expensive, sensitive lenses and beam guiding or beam shaping components such as those used in conventional laser systems are not necessary. Furthermore, the laser unit consists of many small heating zones, which can be independently activated and variably controlled. This allows optimal and flexible adaptation of the heating profiles to the customer's specific edge applications. The wavelength of the module is suitable for standard edge bands. The energy is applied exactly at the defined time and position where it is needed. The laser power is calculated automatically. There is no environmental impact from radiation energy or material damage from concentrations of excessive power.
There are no moving parts in the entire laser module. This results in a system that is insensitive to vibrations, very robust and requires little maintenance. The laser module is dust-tight and is contained in a compact housing with a viewing window and lighting. The installation and start-up process is fast and easy, since no adjustment of lenses is necessary. The entire system conforms to laser class 1 in accordance with DIN EN 60825.