Pranesh Chhibber
&nbspThursday, January 27, 2022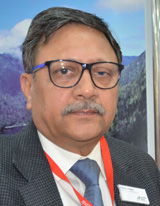 Pranesh Chhibber, Country Director, Forestry Innovation Consulting India Pvt Ltd, Government of British Columbia, Canada enlightens us the status of Canadian wood in India, and much more:
What is the demand of Canadian Wood products in India?

Pranesh Chhibber: Let me answer it in a different way, it's not about the demand of Canadian Woods products in India, let me tell you first- exactly what we are selling from Canada and what we are trying to promote through our selling in India. We are trying to promote Canadian conifers in India. As you must be aware, conifers are basically woods which are of lesser density of tropical hardwoods but then they owe for phenomenal amount of advantages which come from these Canadian wood:
The Canadian Wood is a natural forest wood is highly mature wood, each wood felled is about 100 to 120 years old, so it's a mature wood and in terms of dimensional stability it is very high as compared to the juvenile wood. These woods, you know mostly come from plantation, and the plantation wood is generally dimensionally not very stable- so that is one advantage basically. The second advantage is that is that Canadian wood is certified, all international certifications are there, that means these woods are coming from a sustainably managed forests and there is no de-forestation ever going to take place. This is because, for each one tree felled, three are planted and looked after for a period of 5 years till it becomes big enough to be taken care by nature.
Another advantage of Canadian Wood is that it comes in lumber form and not in log form and there are a lot of advantages in lumber form like the stuffing and its availability in international standard sizes. The fact that it is available KDHT- means kiln dries and heat treated means that the lumber is ready for use. The third most important thing about the Canadian wood is- it is very light in color so that you can stain it to many color as you want, you can make it look like a walnut, like a rosewood , you can get deep finish, you can make it whatever you want it to make it look like.
Also, with Canadian wood, you can ask for the grade you want- more knotty, less knotty, clear, no knots at all which is not possible when you are importing these. India traditionally has been a tropical hardwood country, so we are now educating people about the Conifers, that the conifers has lesser density, they are lighter in the weight, however, there are conifers with heavy weight. Also, we have conifers with they got very high insect resistance. So here in India, we are promoting all these species, telling them that these are available and thus how the import of these conifers are grown up to 35% this year as compared to earlier of the import of conifers, which was less than 10% some years back. Now over the past ten years or so, the import of lumber has been growing, conifers has been growing rather, I would say, the conifers today constitute about 35% of the total import of the wood into India.
But in that case it becomes expensive compared to the other plantation or the other hardwood that are available in India?

Pranesh Chhibber : Not at all, all conifers we sell are priced much less of than teak.
What are the species that you are mostly promoting?

Pranesh Chhibber : We have hemlock, which is excellent and very good for furniture, we also have yellow cedar which is also very good for doors and windows. You can get other very good variety of Douglas Fir, which we can use for higher variety of furniture. Also, we have a very good wood, which is very expensive- western red cedar. We also have wood for purposes like construction is so, there are different woods available. Each of this wood is available at different grades, so you have to specify what really you want- as I said you can look for less knotty, more knotty, no knotty.
Talking about construction- like Canada has a wooden construction more than six storey wooden homes? Do you have any plan of making such construction in India like do you promote or is it possible?

Pranesh Chhibber : Well, it's not up to us to promote construction of wooden homes but yes we will support and we are supporting already people who are into wooden homes. We will certainly stand behind them and give them all possible support, we will share knowledge, collateral and experience with them but yes we cannot change the mindset in India. Yes, in India wooden homes can play a significant part in hill stations and basically in hilly areas where there are wooden homes and look very good we are working those people here and hope to extend our wooden cooperation with them.
So, next time you are coming to India with these type of Canadian woodworking pavilions, can we expect some more Canadian wood companies coming up?

Pranesh Chhibber : Yes, we already have about 8-10 companies who have already participated in the last Delhiwood. We had most of the large companies who are already represented , and many who could not join us with separate booths are there to speak to interested customers.
Tags: Pranesh Chhibber, woodworking and manufacturing, woodworking USA