Registration opens for AWFS Fair CWWK sessions
&nbspThursday, May 25, 2023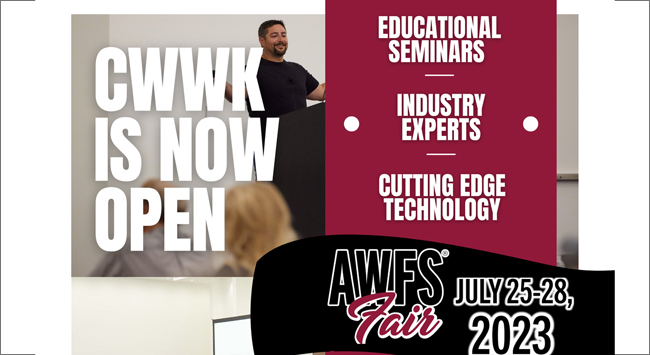 Registration for AWFS Fair College of Woodworking (CWWK) educational classroom seminar program is now live. Educational Seminars by industry experts on cutting edge technology are designed to meet the current needs of show attendees and will take place between July 25 and July 27, 2023.
Dozens of Industry Experts
The CWWK education program is packed with speakers and topics to enlighten, inform and elevate your business practices and know-how.
Attend Cutting-Edge Technology Sessions
Stay abreast of what's new with our sessions focused on innovative technology, processes, and concepts including robotics, connectivity, and IoT concepts.
Targeted Tracks and New Topics for Today's Needs
The Culture and Workforce track will focus on how to strengthen your company and attract and retain skilled workers. Other Tracks include Business Management; Cabinet, Millwork & Furniture; and Innovation & Technology.
AWFS Fair is all about delivering the relevant education you need to navigate your business through evolving times. The AWFS Fair's comprehensive education program, the College of Woodworking Knowledge (CWWK) provides in-depth coverage of the issues that concern you now, and gives you a workable roadmap of real solutions and best practices for solid business advancement.
View the complete schedule from: https://www.awfsfair.org/education/
Tags: AWFS Fair, CWWK, innovation, sessions, technology