REHAU expands RAUVISIO crystal Glass Surfaces collection
&nbspFriday, December 2, 2016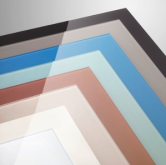 REHAU announces the expansion of its RAUVISIO crystal polymer back-painted glass surface collection, now in eight versatile colors in both high-gloss and frosted matte fronts, and available as fully fabricated custom cabinet doors or individual matching components.

RAUVISIO crystal surfaces provide the elegance of real glass in a durable polymer that is scratch- and impact-resistant, enhancing convenience for the manufacturer, installer and consumer. Fabricated with REHAU LaserEdge Visions Duo-design edgeband and featuring a lighter weight that does not require an aluminum frame, RAUVISIO crystal achieves convincing glass-top looks suitable for a variety of spaces including residential and commercial kitchens and baths as well as hospitality and office interiors.

Jesse Collins, senior marketing specialist for REHAU's furniture solutions division, says, "While the elegant appeal of glass surfaces is highly desirable, real glass is often not practical for a family kitchen or any environment where breaks can pose a risk. RAUVISIO crystal is a flexible glass laminate designed for everyday life. It is not only scratch-resistant; it is also 10 times more break-resistant. You can even write a shopping or to-do list on this surface using a non-permanent marker and it will erase cleanly without any 'ghosting' effect."

To create the new color collection, REHAU teamed up with designer, artist and renowned color expert Professor Axel Venn. Working from Berlin, Venn used a process that involved mixing 700 pigments by hand and surveying the preferences of 2,400 participants worldwide before finalizing the selection. The new palette captures hues with timeless qualities that can be used for expansive surfaces and in combination with other tones, patterns and mixed materials such as wood, stone and metal.

RAUVISIO crystal is offered as finished slab-front doors or pressed boards with matching REHAU LaserEdge adhesive-free edgeband, making this durable glass surface available to any woodworking shop. Custom doors can be ordered online.