REHAU Group's WAIVIS witnesses record sales
&nbspTuesday, March 29, 2022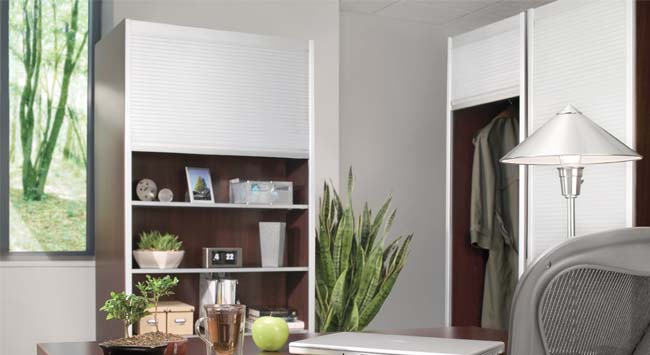 WAIVIS, part of the REHAU Group, has reported a record year of sales in 2021, highlighting the merits of a diverse product portfolio.
Over 2021 REHAU has continued raising its profile across the domestic KBB sector as well as the diversified commercial markets, which include servicing large original equipment manufacturers alongside smaller manufacturers, designers and workshops. In order to fulfil an influx of smaller-scale, bespoke orders, REHAU has depended on its subsidiary distributor, WAIVIS.
As a result, WAIVIS has specifically reported a resurgence in the popularity and usage of tambour doors – once synonymous with 80s-style offices. Scott Williams, National Sales Manager at REHAU Furniture and WAIVIS, stated innovation in design and materials has led to these functional products becoming not only flexible solutions, but aspirational and stylish interior features.
Local fabrication continued throughout lockdown to service an uplift in the medical industry where tambour doors remain popular due to their versatility and space-saving qualities. Similarly, the business expects to see the office sector start to slowly return towards previous demand levels over the next couple of years.
WAIVIS also saw a major drive in the camper conversion market as consumer habits changed through restricted travel, continuing into 2022. Tambour doors have helped consumers improve their offering due to the flexible size and finish options available allowing limited space to be fully utilised whilst offering weight-saving capabilities.
Scott comments: "One of our company's strategic goals is for 10% of our sales to be made up of new product developments, demonstrating our continued drive for innovation. This approach also helps us to apply innovative thinking to existing products and markets. The possibilities are quite literally endless for our tambour doors, as well as our wide array of resilient surfaces and edgebanding. Last year was certainly a successful one and we very much look forward to working with existing and welcoming new customers across the diverse sectors building strong relations with forward-thinking furniture producers over this next year."
Tags: edgebanding, furniture, interior features, rehau, Scott Williams, WAIVIS