REHAU introduces new online platform: REHAU Marketplace
&nbspTuesday, July 24, 2018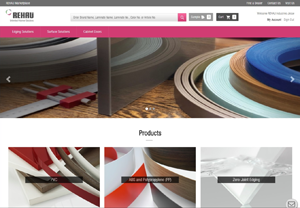 REHAU announces the opening of REHAU Marketplace, an online platform offering edging and surface solutions for designers and manufacturers of cabinetry and architectural millwork. The marketplace provides a robust search feature for cross-referencing REHAU edging with more than 100 laminate and melamine brands and browsing more than 100 modern surface finishes supplied by REHAU. Headlining the company's online service is a new customer-centric, smaller edgeband coil size of as little as 100 ft. An integrated live chat feature instantly connects website visitors to a customer service representative.
"We are constantly challenging ourselves to promote digitalization from our manufacturing processes to the many ways we interact with our customers during design, implementation and installation," said Jesse Collins, marketing manager with REHAU's furniture solutions division. "The new REHAU Marketplace gives customers easier access to more of our products, including our new 100-foot edgeband coils, as well as the ability to instantly find a matching edgeband for their project." Collins added further.
The REHAU Marketplace offers North America's largest edgeband stock program, with more than 10,000 SKUs available for immediate shipment. Also available from stock are more than 100 modern surfaces with matching edgebands, including high-gloss, matte, glass, natural and metal. After making their décor selection, customers can click-through to the REHAU cabinet door order portal where they can order zero-joint custom cabinet doors for shipment within days.
Services available through the REHAU Marketplace include finding a matching edgeband for a laminate or melamine surface, ordering a free edgeband or modern surface sample and identifying the nearest REHAU distributor. For companies set up to buy direct from REHAU, services include availability checking and placing orders.
Visitors can search surface and edging collections using brand attributes including name, color and number or using the REHAU color or article number, then apply further product attribute filters such as availability, size and finish to find exactly what they want.
"Our edgeband color search was by far the most visited page on our website, but our customers were asking for the ability to immediately order the match they found," said Collins. "With REHAU Marketplace, we are satisfying our customers' request for an edgeband shopping cart and laying the foundation for our broader online millwork product range of the future," she said.
New 100 ft Coil Service:  A REHAU Marketplace Exclusive
Exclusively from the REHAU Marketplace, stocked thin and thick edgeband in the most popular color is now available in coils as small as 100 ft.
"While REHAU leads the world in edging technology, this year we decided to innovate around how the market buys edgebanding," said Collins. "Our new 100-ft coil option allows for more personalized orders and reduces the waste of a full coil for smaller projects."  Collins concluded.