Resolute announces indefinite idling of pulp and paper operations
&nbspMonday, December 20, 2021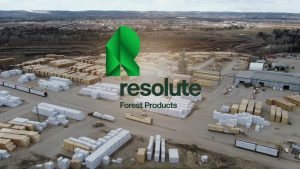 Resolute Forest Products Inc. recently announces the indefinite idling of pulp and paper operations at its Calhoun (Tennessee) mill. Tissue manufacturing and converting will continue at the site and the adjacent distribution center will remain in full operation.
The company anticipates that the decision will directly affect 350 hourly and salaried positions at the Calhoun mill. The facility, which employs a total of 545 people, has an annual capacity of 147,000 metric tons of pulp and 149,000 metric tons of paper as well as 60,000 metric tons of premium tissue.
"We have taken the very difficult decision to indefinitely idle pulp and paper operations at Calhoun knowing how hard this is for the affected employees and their families," said Remi G. Lalonde, president and chief executive officer. "Success has proved elusive at Calhoun's pulp and paper operations, despite the best efforts of our dedicated employees and significant investments of time, energy and resources over the last few years."
The company continues to accumulate significant financial losses at the mill, even with the current strong market conditions for both the pulp and uncoated freesheet paper it manufactures. On a trailing twelve-month basis ending September 30, the pulp and paper operations in Calhoun produced an operating loss of $62 million before corporate expense allocation, including a depreciation expense of $10 million. In addition to these financial losses, the Calhoun mill faced additional significant production upsets in November and December.
Pulp and paper operations will continue for up to 60 days to ensure an orderly shutdown, to accommodate environmental safeguards and to transition customers. "Our focus now will be to support our employees through this difficult time, to operate for the remaining period with the same degree of focus on safety and quality, and to facilitate a smooth transition for our customers," added Mr. Lalonde. "As business conditions for our tissue operations continue to improve after a challenging 2021, our priorities remain focused on driving performance progress to leverage the full potential of our converting operations and the quality of the paper from the machine, together with the right customer mix, to seize the upside, even as the lost integration benefit will add to pulp costs."
The company will work with union leadership and will apply the mill's collective agreement and applicable federal and state laws as well as provide severance benefits to those directly affected. Resolute will also engage government officials and other local authorities in an effort to mitigate the impact of the indefinite idling.
Tags: Calhoun (Tennessee) mill., paper operations, resolute forest product, Tissue manufacturing, woodworking and manufacturing, woodworking industry, woodworking USA