Resolute Announces Permanent Closure of Machine #9
&nbspWednesday, March 11, 2015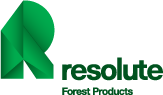 Resolute Forest Product Inc. announced the permanent closure of paper machine #9 at its mill in Alma (Quebec), representing a reduction of 75,000 metric tons of annual specialty papers production capacity.
"Greenpeace's ill-founded attacks misrepresent the company's forest management practices and cast unwarranted doubt on Resolute's compliance with Quebec's Loi sur l'aménagement durable du territoire forestier and our sustainability leadership. Quebec's forest management regime is among the best in the world, and the government ensures strict compliance. The regime deserves to be respected and upheld, and we are calling upon the Quebec government to continue to defend its standards and to refute these unjustified and unfounded attacks," stated Richard Garneau, Resolute's president and chief executive officer.
Resolute decision to reduce specialty papers production capacity is driven by market weakness, exacerbated by fiber cost issues in Quebec, as well as ongoing misinformation campaigns by Greenpeace and other environmental activist groups. Resolute understand the impact his decision will have on employees, their families and local community. The company will work with union representatives and government officials to respond to the needs of affected employees. Local management will also ensure that each employee receives support, that the relevant conditions in the collective agreements are respected, and that as many employees as possible are transferred to other company facilities.
The Alma paper mill employs approximately 340 people and has an annual production capacity of 350,000 metric tons of specialty papers across three machines. Machine #9 will be permanently closed at the beginning of April, resulting in the elimination of about 85 jobs and the permanent reduction of some 75,000 metric tons of production capacity.