Resolute Celebrates Ground Breaking MOA
&nbspMonday, February 16, 2015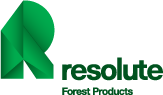 Resolute Forest products Inc. and six First Nation's Chiefs today held an official signing of a Memorandum of Agreement (MOA) that sets out a framework of negotiating business agreements related to the company's sawmill investments in Northwestern Ontario.
"Already, this initiative has resulted in $100 million in new business for our six First Nations MOA partners," stated Richard Garneau, president and chief executive officer.
"This agreement underscores the commitment of both Resolute and its operating communities to work together to create jobs and economic opportunity for Northwestern Ontarians." He added.
The agreement originally signed in 2013, has yielded contracts for: construction at Resolute sawmills; transportation for hauling chips, biomass and lumber for sawmills; yard services to manage loading and unloading of logs; lumber and by-products, and log harvesting and delivery.
Resolute has invested $90 million in Northwestern Ontario in the construction of a new sawmill in Atikokan, the upgrade and restart of the idled lagnace sawmill, the production capacity increase at the company's Thunder Bay sawmill, as well as the addition of a wood pallet plant at the Thunder Bay site. These investments are expected to create 200 new Resolute jobs and another 200 woodlands operations jobs, in addition to indirect employment.
Tags: ground breaking moa celebration, resolute forest product