Resolute obtains full ownership of Donohue Malbaie
&nbspWednesday, January 3, 2018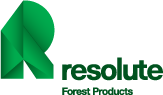 Resolute Forest Products Inc. (NYSE: RFP) (TSX: RFP) recently announced the closing of a transaction to acquire the 49 percent equity interest held by The New York Times Company in Donohue Malbaie Inc. for a cash purchase price in the amount of C$20 million. Resolute already owned 51 percent of the shares of Donohue Malbaie.
Donohue Malbaie owns and operates a paper machine with an annual production capacity of 224,000 metric tons of newsprint in Clermont (Quebec). The Clermont operation, which employs 153 workers, also houses all the equipment that produces the thermomechanical pulp supplying the machine. With this transaction, Resolute becomes sole owner of the Clermont operation.
"The New York Times Company has been an outstanding business partner since the late 1960s, and we thank the organization for its support over the years," said Richard Garneau, president and chief executive officer. "The time was right for Resolute to take full ownership of Donohue Malbaie, and today's transaction illustrates the company's confidence in the operation as well as our continued investment in the Province of Quebec." Richard concluded.
Jim Follo, executive vice president and chief financial officer of The New York Times Company, said: "We've relied on the high-quality product produced in the Clermont mill to print The New York Times each day, and we're grateful to the team there. Resolute will remain our primary supplier of newsprint, and we look forward to a continuing relationship."