Resolute Stockholders Annual Meeting held in Augusta
&nbspSaturday, May 30, 2015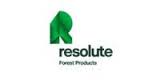 Resolute Forest Product Inc. held its annual meeting of stockholders in Augusta, Georgia. A total of 81,395,213 common shares, or 85.9% of the outstanding shares, were voted at the meeting. Shareholders voted in favor of each proposal, including the re-election of each director nominee, by a substantial majority:

The other proposals on which stockholders voted favorably included:
• The ratification of the appointment of PricewaterhouseCoopers LLP as the company's independent registered public accounting firm for the 2015 fiscal year.

• An advisory vote to approve compensation of the company's named executive officers, as disclosed in the proxy statement.

• The re-approval of the material terms of the performance goals in the Resolute Forest Products equity incentive plan.
Tags: Annual Meeting, Resolute