SCM Group to host interactive demonstration at IWF
&nbspTuesday, July 19, 2016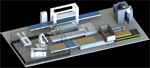 SCM Group will continue to bring its LEAN messaging to the market by hosting daily educational and interactive demonstrations during IWF on LEAN Manufacturing Automation.
SCM Group's LEAN Cabinet Manufacturing Cell will be demonstrating Nesting coupled with a Kawasaki Robot tending an Edgebander and CNC doweling machine. Parts will be produced for Cabinet Assembly in a CPC Through Feed Case Clamp. The cell will be producing cabinets – one base and one wall – which SCM will donate to Habitat for Humanity. SCM and EdgeAutomation have designed the cell to show the viability of robotic installations in small to medium size shops.
"SCM is showing robotic integration coupled with machinery commonly found in cabinet and millwork shops," says John Park, Vice President, Engineering. "Rapid case design, machining and assembly is now a possibility not only in the design and CAD software but for manufacturing through Robotic automation coupled with vision software and labeling for part identification and handling." Park concluded.
SCM's subject matter experts will share their industry knowledge and demonstrate:
•    Automated flexible production: How to produce 60-80 cabinets per shift
•    Low Labor Cost: How to operate with a maximum of two operators
•    High ROI: How to achieve less than 24 months payback