Seismic shake test explores mass-timber resilience
&nbspThursday, June 8, 2023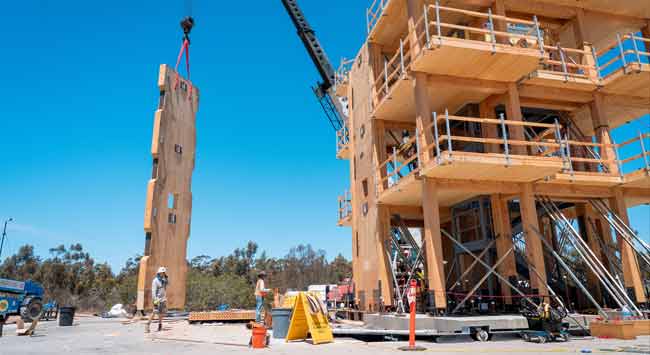 NHERI Tall Wood Project partners came together to execute a seismic shake test on a 10-story wooden structure built with mass timber. The purpose of the test was to test the strength of mass timber products when subjected to earthquake. The two tests were successfully executed on May 9 at the University of California, San Diego (UCSD). Various universities collaborated on the project while The NHERI Tall Wood project was funded by the U.S. National Science Foundation.
The Natural Hazard Engineering Research Infrastructure reported that the mass timber building was a market rate prototype designed by LEVER Architecture. The 112-ft structure mass timber building that was subjected to the seismic shake test was large building that featured four exterior facade assemblies with a number of interior walls. It also owned 10-story stair tower that was for testing the effect on the safety-critical nonstructural components as well. The design of the structure also showcased rocking walls that helped the building to re-center itself while it encountered the seismic event. Post-tensioned steel rods were placed on each floor to absorb the powerful seismic force. It must be noted that the structure was built using donated mass timber products that included Cross Laminated Timber (CLT), Mass Plywood Panel (MPP), Nail-Laminated Timber (NLT), Dowel Laminated Timber (DLT), Veneer Laminated Timber (VLT), and Glulam.
The Awaited result-
The final result will not be released until later this year but the project team believes that this building type will result to be a good sustainable choice for the growing urbanization. The research partners also believe that the resilient mass timber building is also easily repairable after encountering such earthquakes. The mass timber building this time could endure the seismic effect with minimal damage. The building's rocking wall lateral system resulted to be extremely helpful. This test mostly focused on the seismic viability but the team further plans to deconstruct the top four floors of the building to study the mass timber deconstruction process.
Tags: LEVER Architecture., mass timber, NHERI Tall Wood Project, seismic design, Seismic shake test, wood, wood and panel, woodworking, woodworking and manufacturing, woodworking industry, woodworking USA