SENCO nailers win Pro Tool Innovation Awards
&nbspWednesday, November 9, 2022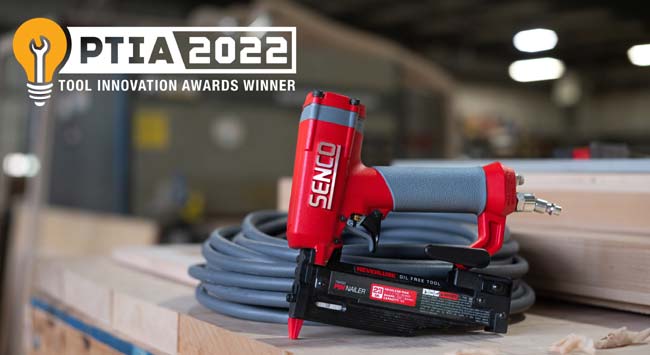 KYOCERA SENCO Industrial Tools (SENCO), recently received Pro Tool Innovation Awards for its new built-in-America framing nailer as well as a new oil-free pin nailer featuring NeverLube technology. The FN91T1 won best framing nailer, while the TN11G1 23-gauge pin nailer took home the award for best finish nailer.
Gathering a diverse team of judges, including contractors, construction business owners, tradesmen and media professionals, the votes were counted for the most innovative construction and outdoor power equipment industry products in the world. Judging the 10th annual PTIA Awards revealed an amazing array of truly innovative power and hand tools, tool accessories, fasteners, and other products submitted by many of the top manufacturers in the industry.
Here's what the Pro Tool Innovation Awards judges had to say about the FN91T1:
"More and more, engineered lumber is a reality for new construction and remodeling, and your framing nailer has to have the power to drive its full range of nails in it. KYOCERA SENCO's FN91T1 is your answer, ensuring you have a full-featured, ergonomically sound pneumatic framing nailer built for today's construction materials."
Regarding the TN11G1, they said "Thanks to their NeverLube design, components don't require oil, so the daily maintenance headache and annoying oil drips are a thing of the past."
The FN91T1 is SENCO's most powerful pneumatic framer yet, delivering 18 percent more driving force than comparable framing nailers. It is designed to consistently sink up to 3-½" framing nails in dense engineered lumber like LVL and OSB without slowing down. The nailer drives paper-collated, 34-degree clipped-head and offset-round-head nails from 2" to 3-½" in length.
The TN11G1 is ergonomically unchanged from previous SENCO 23-guage nailers. The internal NeverLube technology combines components made from a proprietary graphite composite that acts as a dry lubricant with a self-lubricating O-ring that won't dry out and degrade like standard rubber or plastic seals. Unlike traditional oil-free nailers, which are packed with grease during manufacturing, SENCO's new pin nailers don't need to be periodically regreased.
The 2022 Pro Tool Innovation Awards marked the 10th anniversary of the program.
Tags: nailer, SENCO, wood, wood and panel, woodworking and manufacturing, woodworking and processing, woodworking tools, woodworking USA