SIBO opens to bustling crowd
&nbspMonday, October 31, 2022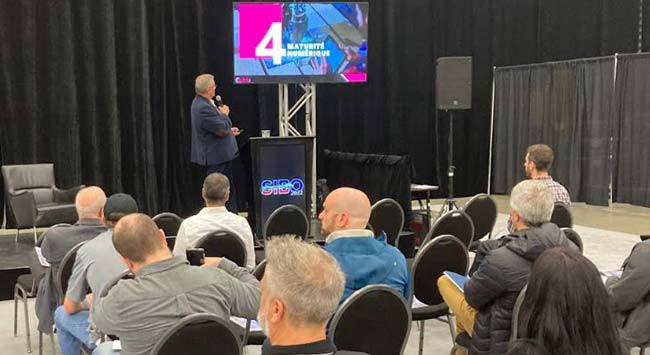 Salon Industriel du Bois Ouvré (SIBO) opened to the live crowd on October 27 and continued till the 29, 2022. The three-day event, featured a free on-the-show-floor education conference, runs through Saturday, October 29, at the Centrexpo Cogeco. The expo hall welcomed guests each day.
The Quebec woodworking show featured machinery, software and supplies from several dozen manufacturers and distributors. Exhibiting companies include Normand, Holytek, and Castaly on the equipment side along with hardware suppliers Richelieu, Blum, Sugatsune and more. Planit Canada, Microvellum, 2020 and Cienapps are among SIBO exhibitors demonstrating their software.
Especially due to COVID restrictions on tradeshows, many products are making their first public showing at a Canadian event. Just a few examples include:
Normand is demonstrating the Altendorf Handguard sliding table saw with its unique AI and two camera-based safety assistance system, as well as the Vitap K2 2.0 machining center that combines four machines to process panels in one space-saving system.
SIBO 2022
"We had a strong opening day and are looking forward to more of the same on the next two days," said Harry Urban, show manager. "Their was a great buzz on the show floor. We're pleased to bring SIBO back to Quebec after a long absence. It's proof that the Quebec woodworking market deserves a show to call its own."
SIBO Live features business and technical presentations
The free SIBO Live conference opened with a keynote presentation by Christian Galarneau, managing director of the Sectoral labor committee for the door and window, furniture and kitchen cabinet industries. Galarneau shared the results of an exclusive survey highlighting the Quebec wood product industry's adoption of Industry 4.0 technologies against the backdrop of the challenges woodworking companies face to hire skilled woodworkers.
Thursday's conference also included a presentation of the economics of converting to water-based finishes by Marc-André Bérubé, project manager of Finishing for INOVEM and how wood products companies can benefit adopting the Internet of Things in their operations by Christopher Mancliere, senior software specialist of Planit Canada.
Tags: Quebec, wood, woodworking, woodworking and manufacturing, woodworking event, woodworking industry, woodworking USA