SNX updates its nVision machine
&nbspMonday, November 6, 2017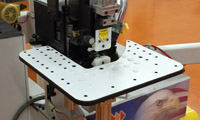 SNX has updated it's popular optional banding and trimming tables for the nVision series of contour banders. In place of the previous black phenolic, they now use a white-faced version that provides a smoother surface. Each table is mounted on the same fabricated steel frame, and is able to be positioned up and down on the machine via a locking lever. The trimming station version also maintains the ability to swing clear of the cutting position in order to use the vacuum pod arm.
These tables are quite useful for positioning small parts for banding, in particular where the vacuum pod diameter may interfere with placement of the part close enough to the banding spindles.
WORKS WITH LONG, NARROW PARTS, TOO
SNX closet and furniture company customers report that the tables have also been very effective for banding long, narrow parts. In the video clip below, notice how the table easily supports a commercial desk part's leg clearance cutout. Positioning a standard vacuum pod to accommodate the thin section of the part would have been more difficult.