Stiles Machinery and Hundegger celebrates strategic collaboration
&nbspFriday, September 20, 2019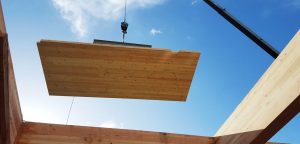 Stiles and Hundegger vows to bring world-class technology and award winning services together to provide comprehensive solution essential in the North American mass timber and prefabricated housing industry. Stiles Machinery and Hundegger announces their strategic collaboration in prefabrication market in America. "With the continued growth and interest in mass timber and offsite home construction disrupting conventional building methods, Stiles and Hundegger are excited to be an integral part of providing solutions to manufacturers within these industries," says Russ Suor, Executive Vice President of Stiles.
Hundegger, the brand is known for offering committed services to customers with innovative technology aimed specifically at adding more value to structural wood components while reducing costs and maximizing throughput. In the hope of evolving as a single-source solution for the entire North American mass timber and prefabricated housing industries, now, with 'Stiles Machinery' they are fine-tuning their services and improving skill set with additional infrastructure of sophisticated service as well as team of support specialists and world-leading solutions in automated panelized wall construction from WEINMANN, the cooperation between these two industry leaders is laying the groundwork for the future of integrated solutions for structural wood construction in North America.
From open or closed wall elements to roof trusses and mass timber solutions, Stiles' and Hundegger's expertise, both individually and collectively, will now assist manufacturers in developing advanced products and achieve competitive advantage in the marketplace.
Prefabricated homes and structures could be developed quickly with limited materials available and this sort of constructions produces very little waste. Besides the install, a house can be completed at the factory. By incorporating the infrastructure of Stiles' and its Weinmann automated panelized wall construction – and Hundegger will be able to meet the demand of the customer and is expected to gain the status of one the leading manufacturers in automated and joinery machine sector. This partnership seems to have great potential.
Tags: Hundegger, Russ Suor Executive Vice President, stiles machinery, timber market, Weinmann