Stiles Manufacturing Solution Seminar opens registration process
&nbspSaturday, October 22, 2016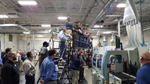 Registration is now open for the final Manufacturing Solutions Seminar of 2016, hosted by Stiles Machinery at their High Point, NC technology showroom and finishing lab. The event, which takes place Tuesday November 15 and Wednesday November 16, immerses manufacturers of all sizes in new technologies, new processes and best practices for improving quality, efficiency and growth through demonstrations, seminars and networking.
On the first day of the seminar, attendees will receive exclusive live demonstrations of the ground-breaking robotic cutting system, the HOLZMA HPS 320 flexTec. A popular attraction at IWF 2016 this past summer, the revolutionary HOLZMA HPS 320 flexTec is able to perform all panel processing on a single saw, utilizing fully automated processes for positioning parts and making unlimited recuts. Capable of processing up to 1,500 parts per shift, this technology was designed to revolutionize batch size one production, allowing manufactures to gain added efficiency in their processes by leveraging greater accuracy, cost effectiveness, flexibility and workcell intelligence.
International industry experts will also take attendees through other work cell demonstrations showcasing trend-setting construction methods for cabinet and furniture manufacturers, including cutting and machining, edgebanding and drilling and dowel insertion applications focused on European construction methods. Presentations will cover trending topics from 'Industry 4.0' for data-driven manufacturing and best practices for helping customers stay competitive and profitable.
The second day of the seminar is entirely devoted to solid wood manufacturing. Live demonstrations will feature the latest technology advancements in door and face-frame construction applications including self-centering planers, state-of-the-art defect scanning solutions and the latest in millwork processing developments to drive quality and yield optimization. Stiles will also be exhibiting their advanced surface technologies including brush and orbital sanding, spray and roll coat processes in the company's state-of-the-art finishing lab – focusing on quality control, time efficiency and cost-savings for today's manufacturer.