Stiles offers new possibilities with EBTT
&nbspTuesday, November 27, 2018
As the manufacturing epicenter of the world, Europe is home to many of the most innovative, efficient, and productive manufacturing facilities in the world.
The European Benchmarking Technology Tour, an annual event hosted by Stiles Machinery, gives manufacturers from across North America an insiders look at some of these highly efficient facilities, allowing them to benchmark their own operations against global leaders throughout Europe while discovering new ideas and innovative processes that will influence their own success for years to come.
This year's tour included stops at some of the most well-known manufacturers in Germany and the Czech Republic. From some of the largest manufacturers in the world to small family-owned institutional millwork shops, tour attendees were able to experience how companies of all sizes are utilizing the latest technologies, automation and innovative solutions to meet the standards of quality and craftsmanship that have been the hallmark of European manufacturing for generations.
In addition to gaining a behind-the-scenes look at how global leaders are addressing challenges and opportunities within the industry, attendees also enjoyed cultural experiences throughout the weeklong event including medieval cities, historic market squares and the ever popular Volksfest fall celebration in Stuttgart, Germany.
Below is a sample of some of the tour destinations visited on the European Benchmarking Technology Tour and a few highlights from each demonstrating how they are each embracing innovation:
1. Steelcase | Kostelec, Czechia
Steelcase is one of the largest office furniture companies in the world. With locations across the globe and nearly 12,000 employees, Steelcase is known for their ability to provide superb learning and working environments for some of the world's leading organizations and industries.
Highlights:
•    Extremely modern facility built for highly efficient process and flow
•    A focus on automation, enabling mass production of high-end case goods, while still meeting the needs of batch size production within the European market
•    Featured state-of-the-art stand-alone equipment capable of running a modern version of batch production at incredible speeds
•    Two horseshoe-shaped HOMAG edgebanding lines featuring both EVA and laserTec zero joint technology for sizing, squaring, and edgebanding all four sides in a single run
•    Single piece flow drilling process in conjunction with a fully-automatic feedthrough case clamp for high-quality at low volumes
2.  HOMAG | Schopfloch, Germany
The HOMAG Group is the world's leading provider of integrated solutions for production in the woodworking industry. With locations in more than 100 countries, HOMAG has over 6,500 employees dedicated to providing customers of all sizes with world-class production solutions, including individual machines to complete, networked production lines for highly industrialized, individual furniture production. HOMAG also leads the industry in digital innovation and software solutions that are helping to shape the future of woodworking.
•    High-tech machines and systems for a wide variety of industries including home and office furniture, kitchens, parquet and laminate flooring, windows, doors, staircases, and even complete prefabricated timber-frame buildings
•    The latest technology trends including software solutions, newly designed machines with intelligent features
•    Industry 4.0 digital breakthroughs made possible via tapio, the world's first IoT platform designed to support the entire value chain of the woodworking industry from the palm of your hand
3. OKA | Ebersbach-Neugersdorf, Germany
Oka, founded in 1858 as a carpentry shop, is now one of the most modern production plants in the furniture industry for the mid-level market. With around 150 employees, OKA is able to produce high-quality contract furniture for the European market with the use of highly innovative technology and data-driven solutions.
Highlights:
•    Fully integrated data-driven facility producing high volume mid-grade contract furniture for the European market
•    Utilization of the latest MES (Manufacturing Execution Software) to power the entire manufacturing floor
•    Featured highly efficient storage and retrieval systems, angular panel dividing, sorting and buffering systems, batch size one line with laser edge processing and fully automated drilling and doweling
•    Totally optimized automation, utilizing advanced through feeds and outfeeds, networked production and one piece workflow, enabling redistribution of the workforce to achieve even greater efficiency
4. Schreinerei Loschke | Oppach, Germany
Loschke is a small, family owned and operated company with a focus on high-end institutional millwork. Their pride in both family and work is evident in their high attention to detail and craftsmanship. They have experienced the effects of an evolving industry first-hand, and are not afraid to explore innovative ideas and invest in new technology to meet the growing demands of customers from generation to generation.
Highlights:
•    Small family-owned and operated company producing high-end, custom institutional millwork for cruise ships, banks, and hospitality
•    Highly flexible technology including the HOMAG STORETEQ (formerly known as IntelliStore) for fully optimized storage and retrieval of materials
•    HOMAG SAWTEQ (formerly known as HPP) panel saw with integrated intelliGuide operator assistance system
•    Fully-automated PUR (polyurethane) edgebanding system from HOMAG
5. Walter Bosh | Wilburgstetten, Germany
Walter Bosh, founded in 1954, specializes in interior design and the complete equipment solutions for banks, offices, retail and hotel facilities as well as high-quality furniture for the private sector. With around 30 employees, Bosch produces a versatile product range including counter systems and complete wall units in individual surface finishes.
Highlights:
•    Low-volume, high-value production featuring a wide range of equipment and tools to handle virtually any application from high-end panel processing to solid wood and veneer
•    Exceptional production speeds using highly customized machinery, capable of turning around a product request in under 4 hours
•    An industry 4.0 shop, utilizing MES from the office to the shop floor
•    A focus on ergonomics featuring transfer carts, air tables, wide code scanning of barcode labels, and much more
•    Two HOMAG BAZ CNC Contour Edgebanders featuring horizontal and vertical drilling, grooving, routing, sawing, and laser edgebanding in a single machine
•    Always finding new ways to marry technology with craftsmanship
6. Erfi | Freudenstadt, Germany
Family-owned and operated since 1955, Erfi specializes in intelligent solutions for laboratory, industry, and office. Erfi blends individual consultation with in-house production and development. Following a recent fire in their facility, the company invested in all new technology and innovative software to better support their customer's needs.
Highlights:
•    Two HOMAG STORETEQ (formerly known as IntelliStore) panel and storage retrieval systems on the second floor that feed into two HOMAG panel saws on the first floor, in order to optimize their vertical space
•    Virtually lights-out operations with a focus on automation and robotic technology
•    HOMAG edgebanding lines featuring both PUR and laserTec zero joint technology with automatic interchanging capabilities for increased flexibility
•    State of the art software throughout the entire facility including tapio, the world's first IoT platform designed to support the entire value chain of the woodworking industry from the palm of your hand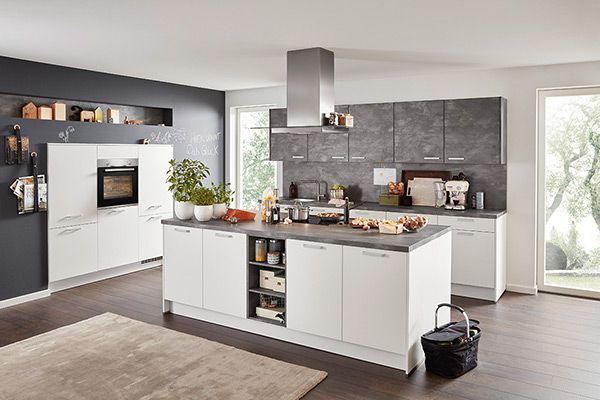 7. Rempp | Wildberg, Germany    
Rempp has grown from a company of 10 to a company of 120 employees since it was founded by Ernst Rempp in 1930. With a focus on kitchens with high-quality design standards, Rempp prides itself on responding to customers' requests quickly and efficiently. With a wide range of colors and surfaces available, Rempp kitchens are as individual as the people who work in them.
Highlights:
•    Production of high-end kitchens that are exported all of Europe and the world
•    A double-decker storage and retrieval system for full optimal use of factory space
•    HOMAG panel saw technology with angular panel dividing capabilities
•    Featuring the latest technology in edgebanding with both double and single sided machines
Regardless of the size of the companies visited on the European Benchmarking Technology Tour, the common thread evident in each facility was a focus on technology and automation to meet rising consumer and customization demands in the marketplace.
European manufacturing companies don't have some magic formula that manufacturers in North America don't have. They face the same struggles as North Americans' do with workforce shortages, quality control, batch size one production, and more. However, they have learned quickly that in order to keep up with the rising demands in the marketplace while still maintaining quality craftsmanship, they can only do so by investing in advanced technology and innovative solutions.