Strengthen the miter joints with Woodpeckers new Spline Jig
&nbspThursday, April 27, 2023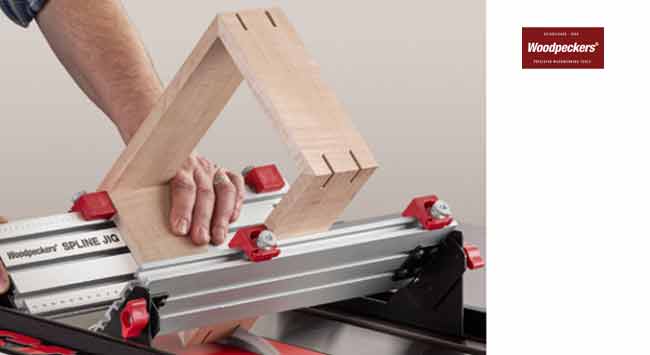 Woodpeckers new Spline Jig further simplifies woodworking and manufacturing process by simplifying adding splines to all kinds of mitered joints using either the table saw or router table.
Since it isn't completely end-grain to end-grain, it will usually hold together for a while, but it's weak and probably won't survive seasonal changes.  One may make the joint rock solid and add a design element at the same time by adding splines across the miters. Woodpeckers Spline Jig makes it simple to add splines to all kinds of mitered joints using either the table saw or router table. Just set the stops to position the cut where the user wants to add a spline, drop the pre-glued miter project in the jig and make the cut. Glue in the spline and just that quickly, thus made an attractive joint that will last for generations.
Woodpeckers Spline Jig starts with two sections of our Super Track. The powder-coated steel legs hold the tracks square to each other at two different height settings. The wider setting allows the project to ride just barely above the machine table. It's perfect for projects as narrow as 1/2 " and up to 16″ wide. When the project exceeds 16″, just move the tracks inward to the alternate position and now the user can add splines to long projects.
UHMW glide strips line the bottoms and edges of the legs, reducing friction and protecting the machine's table and fence from scratches. Just position the fence to put the kerf where one want it, keep a little pressure against the fence and guide a project through the saw blade. There's no simpler way to add strength and stability to the joinery.
To jazz up the spline joints with either wider splines or dovetail splines, move to the router table. Now one can use straight bits to cut spline slots 1/4″, 3/8″, 1/2″ or larger. Install a dovetail bit to give theprojects the classic look of dovetails. Cut the matching spline stock in two passes using the same bit. For a bold look, make your splines from stock that contrasts with the box material. Or, be subtle and use the same species…then see how long it takes people to figure out they're not regular dovetails!
Like all Woodpeckers products, the Spline Jig is precisely machined and carefully inspected in the Strongsville, Ohio facility just south of Cleveland.
Tags: wood, wood and panel, Woodpeckers, woodworking, woodworking and manufacturing, woodworking and processing, woodworking industry, woodworking tools, woodworking USA