Successful 2018 for Stiles: A lookback
&nbspWednesday, January 2, 2019
Stiles Machinery is known for providing solutions for manufacturers of all sizes across North America, and 2018 was no exception.
From their recent rebrand and newly designed solutions revealed at this year's International Woodworking Fair to eye-opening technology tours throughout the United States, Europe, and China, Stiles demonstrated their continued commitment to providing comprehensive solutions for their customers.
CORPORATE REBRAND
In May, Stiles revealed a new logo and brand identity designed to clearly communicate their strong commitment to providing superior solutions that support their customers' success. The new logo marks the next phase of their evolution as a complete manufacturing solutions provider, including their integral role as a member of HOMAG, the global leader in world-class woodworking technology and innovation.
MODERN DESIGN AND DIGITAL INNOVATION
At this year's IWF in Atlanta, Georgia, Stiles revealed HOMAG's brand new line of modern machine designs, complete with advanced software solutions and tapio IoT functionality, further establishing their reputation as a thought-leader in Industry 4.0 solutions that are shaping the future of the industry. This was the first time that North American customers had the opportunity to see these new advancements from HOMAG in person.
GLOBAL TECHNOLOGY TOURS
Stiles hosted several global technology tours in 2018 which gave manufacturing professionals and leaders from across North America the unique opportunity to experience behind-the-scenes tours of some of the most innovative, efficient, and productive manufacturing facilities in the world. Included in this year's global technology tours were Stiles' annual European Benchmarking Technology Tour as well as the Global Production Experience, which took attendees into the heart of China's manufacturing sector.
European Technology Benchmarking Tour
Stiles European Technology Benchmarking Tour offered participants the unique opportunity to benchmark their own operations against global leaders in Germany and the Czech Republic, giving them a competitive advantage in the marketplace and equipping them with valuable knowledge and tools to impact the success of their companies for years to come.
Global Production Experience in China
The Global Production Experience was a rare opportunity in which a select group of manufacturing professionals had the chance to experience one of the fastest growing markets for advanced manufacturing technology in the world. Attendees were able to experience China's production processes first-hand and benchmark their own practices against a global leader in innovation.
REGIONAL HIGHLIGHTS
In addition to the solutions provided at a national and global level in 2018, Stiles also offered world-class industry solutions through each of their 5 regional locations to support manufacturers closer to where they live and operate their businesses.
Northeast Technology Tour
In October Stiles hosted a two-day technology tour in the heart of New England. Throughout the event, guests experienced two industry-leading manufacturers in the Northeast region where they heard about the exciting ways in which these companies utilize software, innovation, and technology while maintaining the spirit of artistry and craftsmanship that is foundational to that part of the country.
Manufacturing Solutions Seminar
In May and November, Stiles hosted their annual Manufacturing Solutions Seminar at their world-class technology showroom and finishing lab in High Point, North Carolina. The event was attended by companies from across North America who experienced real-world solutions to current trends and challenges facing the manufacturing industry including batch size one production strategies, innovative software integration, and networked production solutions such as tapio, the first IoT platform designed to support the entire value chain of the woodworking industry from the palm of your hand.
Growing Presence in Mexico
Stiles has continued to expand their presence in Mexico, including the addition of two local service technicians in Guadalajara and Queretaro this year. In support of their commitment to helping manufacturers in Mexico discover the right solutions for their business, Stiles also recently hosted nine manufacturers of kitchen and office furniture from Mexico at their recent Manufacturing Solution Seminar in High Point, North Carolina.  "I was surprised with how little space and manpower is required to run a highly productive manufacturing cell. I'm not even home yet and I am already making plans for change at my plant," said one of the attendees from Mexico.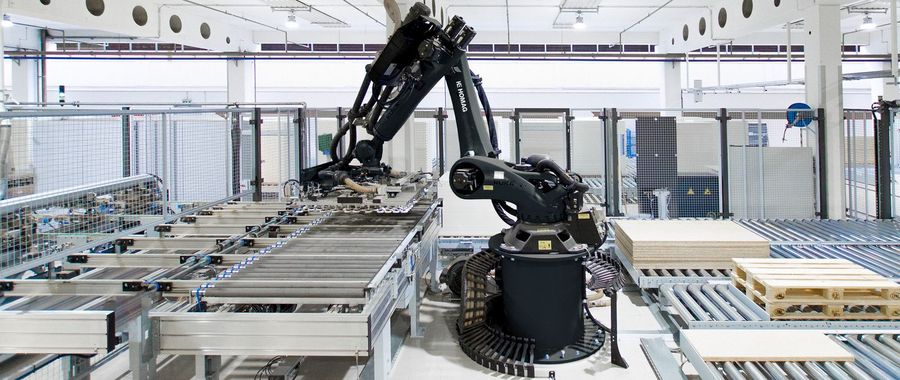 West Coast Open House
In June, Stiles Western Region, headquartered in Rancho Cucamonga, CA hosted an open house to showcase the latest manufacturing solutions to over 45 companies from the area. The event included live demonstrations using advanced manufacturing machinery and innovative software solutions. The Western Region also hosted an educational career day on November 29th in which local high school students had the opportunity to experience how modern technology has revolutionized the manufacturing industry.
South Central Solutions
As access to quality labor becomes more of a challenge for manufacturers in the South Central Region, Stiles is seeing a rising trend in the desire for automatic material handling solutions. In 2018, Stiles' South Central Region noted a record number of customers investing in the STORETEQ automatic storage system from HOMAG. Reduction in labor and improved efficiencies have contributed to the growth of many of these companies throughout the region.
Stiles is proud to have been a part of the success of thousands of manufacturers across North America in 2018 and looks forward to continuing to provide solutions that push the boundaries of innovation in 2019 and beyond.
Tags: solutions for manufacturers, stiles machinery, successful 2018