SWISS KRONO's latest plant is all set to open shortly
&nbspFriday, August 2, 2019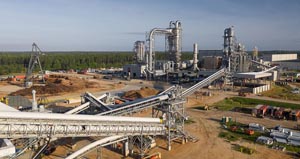 SWISS KRONO's success story in the USA continues. The extensive construction work at SWISS KRONO Group's latest plant is to be completed shortly, at which point the production of high-density fiberboards will begin. In Barnwell, for example, a production capacity of around 280,000 cubic meters of HDF is to be achieved in the future, which is intended primarily for laminate production in the company's own plant. The new plant will add an additional 26 million square meters. With these actions, SWISS KRONO Group is responding to the growing demand on the American market for high-quality laminate flooring.
Roland Kovacic, Chief Technical Officer (CTO) and member of the Group Executive Board, is delighted: "The project implementation in the USA was extremely demanding for everyone involved. I would like to wholeheartedly thank the entire project team, which also mastered difficult challenges well.
"We are now on the home straight. In a few weeks we will produce the first boards at the most modern HDF plant in the world."
But to get to this point, everyone involved had to overcome a mammoth task on site. The figures tell the story: Around 38,000 cubic meters of concrete and 3500 tons of steel were used on the project to create a roofed area of 32,500 square meters. Around 25 kilometers of piping and 530 kilometers of cable were laid for this purpose, to which 460 switch cabinets were connected. An investment of 45 million US dollars was already made back in 2011 to double the production capacity of laminate flooring at the time.
The investment will also benefit the region. The expansion of the site will create 105 new jobs, meaning that Barnwell will employ 275 people in the future. In order to support their American colleagues in the first weeks after commissioning, experienced plant operators from the wood yard, energy plant, refiner, press and sanding line sectors will be sought. Interested colleagues are asked to get in touch with their line managers.
Tags: 26 million square meters, American market, Barnwell, Chief Technical Officer (CTO), growing demand, high-density fiberboards, new plant, north carolina, Roland Kovacic, SWISS KRONO