SWOOD helps Groupe Beaubois to streamline its operations and expand capabilities
&nbspWednesday, October 11, 2023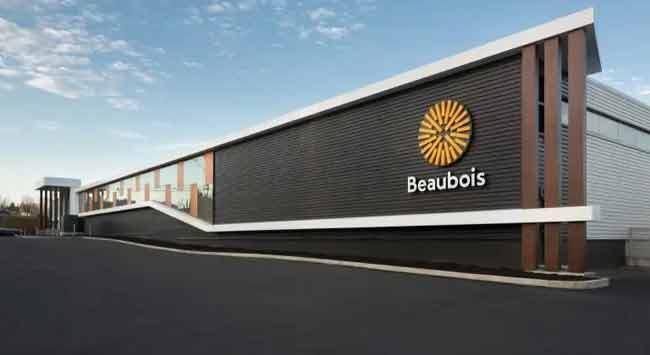 With SWOOD, Groupe Beaubois successfully harnesses technological advancements, improved efficiency, and embraced the future of architectural woodworking. Implementing SWOOD, has paved the way for Groupe Beaubois to reach new heights and confidently take on ambitious projects.
Groupe Beaubois one of the leading architectural woodworking companies for all high-end projects throughout North America. The furniture that they build is custom-made for any architect. Overcoming challenges and in gaining a competitive edge, SWOOD is helping Groupe Beaubois to streamline its operations and expand its capabilities. Groupe Beaubois faced the challenge of improving its project's efficiency and streamlining its operations. They needed to embrace technological advancements and integrate automation and robotization into their plant to achieve this. However, they soon realized that their design software played a vital role in facilitating the information flow for their equipment. That's when they discovered SWOOD solution, specifically designed to cater to the woodworking industry.
Harnessing the potential of SWOOD
Stéphane Lesage, Director of Operations at Groupe Beaubois, explains, "During the analysis to integrate the software into our plant, we discovered SWOOD that can manage technology for the woodworking industry. The software gave us a relevant advantage since it allowed us to benefit from SWOOD team's expertise, follow the software's programming with them, and move the technical information forward to our equipment." SWOOD solution enabled Groupe Beaubois to overcome its challenges and achieve remarkable results.
Enabling greater efficiency and fostering collaboration.
Étienne Pilote-Fortin, in charge of the design team at Beaubois, highlights the advantages of SWOOD solution. "It helped us input more information into the model so that the builder or the rest of the team could put it together without much training," he explains. The solution allowed Groupe Beaubois to create parts with Lego-like shapes, facilitating rapid assembly and reducing the need for extensive drawings. Pierre-Luc Veilleux, Industrial Engineer at Groupe Beaubois, emphasizes the time-saving aspect of SWOOD solution.
Seamless integration and steadfast support
Jean Sébastien Grenier highlights the effectiveness of SWOOD solution at the CAM level, stating, "Automatic machining recognition is the tool that helped us. The volume of parts would increase, and in the programming department, we needed a solution that automatically and efficiently creates many programs on different machines." However, Stéphane Lesage acknowledges that any transformation comes with its fair share of resistance to change. To address this, Groupe Beaubois partnered with SolidXperts, a SWOOD-certified reseller, who provided ongoing support throughout the project. "They've been with us through this whole transformation," says Stéphane. SolidXperts' assistance ensured a smooth transition and empowered the Groupe Beaubois team to fully utilize the software's capabilities.
Tags: swood, wood, wood and panel, woodworking, woodworking and manufacturing, woodworking industry, woodworking USA