Tennessee introduces first ever HempWood flooring
&nbspFriday, March 20, 2020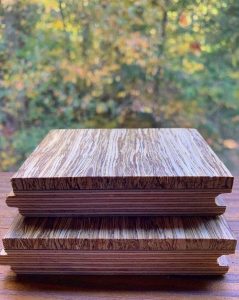 Tennessee hardwood flooring surprises the world wood sector with all new hemp flooring. This is first of a kind that the company successfully made flooring from hemp. Tennessee Wood Flooring (TWF) has formed a partnership with Murray, Kentucky-based Fibonacci LLC, the creator of HempWood. Flooring production has already begun, and product should hit the market within the coming weeks.
HempWood leader Greg Wilson's 15,600-square-feet factory officially opened for business in Kentucky last August. Made from compressed hemp stalks and sealed with a soy-based adhesive, HempWood offers significant advantages over traditional lumber – including a higher availability, a much quicker grow time of five to six months, and a 20 percent higher density. It can be used in furniture, flooring, and other woodworking projects.
HempWood was our biggest online story over the entire year of 2019.
"We're taking something that grows in six months and we're able to able to replicate, if not out perform, a tropical hardwood that grows in 200 years," Wilson said.A few weeks after opening, Wilson told HempGrower that TWF visited his plant and asked him about making flooring using his product. Wilson reportedly was impressed with the family-owned company's "grit to develop new products."
Wilson and Fibonacci supply the HempWood of course. TFW, a custom prefinished flooring specialist, presses the material into flooring. The finished product will be available on both company's websites. Around 5,000 square feet of HempWood flooring is capable of being produced every week.HempWood itself is available in blocks, pre-sawn boards, flooring, and finished products such as cutting boards and skateboards. A 4/4 x 5-1/4″ x 4′ board is $29.99.
news source: woodworkingnetwork
Tags: flooring and finished products, Greg Wilson, hard wood flooring, HempWood, Kentucky, Tennessee, woodworking