The International Surface Event 2023 celebrates resounding success
&nbspFriday, March 3, 2023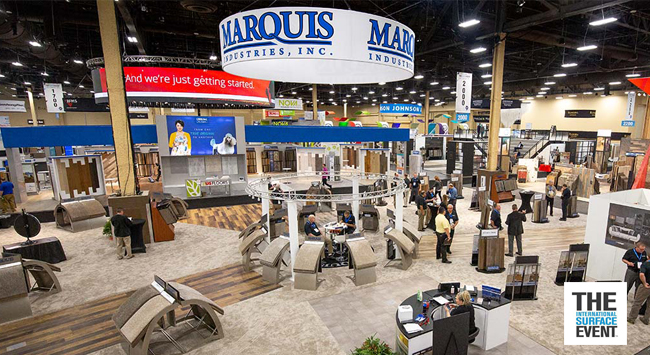 The International Surface Event (TISE) once again came to life in Las Vegas January 31-February 2. TISE celebrates resounding success with a 67% increase in attendance over the already successful 2022 event with double-digit increases again over events going as far back as before 2019. These results, in conjunction with a power-house exhibit hall with almost 600 exhibiting companies, produced an electric product sourcing and buying experience and left the industry saying, "What an incredible show!".
TISE is inviting the entire industry community together to create a highlight reel of this year's event in a new "Add Yours" Instagram Story featured in the TISE Instagram highlights. Join the event on Instagram to view the story, then click the "Add Yours" button to share your videos, images, or snapshots from TISE 2023.
"Just when you think the team at Informa can't create a better show, they go and top themselves again. From the training sessions to the installation competition, to the comprehensive list of suppliers, and the new set up to simplify the flow of attendees and allow maximum time for Interaction, SURFACES 2023 was the best show in my 10 years as head of the WFCA! Well done!" – Scott Humphrey, President & CEO, World Floor Covering Association, sponsor of SURFACES.
"We had a fantastic experience, and it was great to see such a strong international presence in the Natural Stone Pavilion! Nearly 60 material suppliers to complement the strong showing of equipment & tooling companies and we anticipate even more in 2024. Two additional highlights included the NSI's introduction of the David Fell Spirit of Service Award to recognize participants in the Gary Sinise Foundation's R.I.S.E. program, and industry support for our Foundation's Mission Possible cash and car raffle." -Jim Hieb, CEO, Natural Stone Institute
"The Ceramic Tile Education Foundation and National Tile Contractors Association were both very pleased with the traffic and quality of attendees at TISE 2023. It is clear installers and contractors have realized the value of inperson networking and interaction with suppliers that happen at a show like TISE. The responses to the education and training we offered at the show were extremely positive, and we were able to create a lot of energy to support industry certification and training." – Bart Bettiga, Executive Director, National Tile Contractors Association
Tags: las vegas, The International Surface Event (TISE), wood, woodworking, woodworking and manufacturing, woodworking event, woodworking industry, woodworking USA