The new innovative finish for Salice hinge
&nbspFriday, October 16, 2015
Salice introduces an inventive and spectacular finish – Titanium. This new finish perfectly integrates the hinge into the design of the cabinet conveying a sensation of warmth and at the same time incorporating modern functionality.
The colour, new and different compared with the traditional blued or nickel-plated finishes, is less invasive and has a muted sheen. The titanium reflections make this hinge ideal in combination with darker interiors and with the numerous shades of wood available.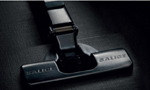 The good reflection properties and the technological aspect of the hinge allow a perfect integration with the place where it is to be inserted, also suitable in the lightest interiors. The corrosion strength is considerably increased compared to the classic nickel-plated finish.
Tags: salice, salice hinge, titanium finish