Cefla Finishing brings Smart Factory Concept at AWFS
&nbspTuesday, August 22, 2017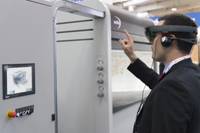 Cefla Finishing, a world-leading provider of finishing, decoration and digital printing solutions for the wood industry, brought its Smart Factory concepts to the AWFS®Fair 2017 to showcase how hardware and software can interact at every step of the production process. In keeping with the show's mission, Cefla was intent on providing its customers with a new set of powerful and innovative tools to give them a lasting competitive edge in the years to come.
Industry 4.0 technologies allow companies to connect the machine-centered digital world and the people-focused real world. The four parts of Cefla's Smart Factory concept effectively bring both worlds together for maximum efficiency. "Cefla Finishing is already part of a future that combines the efficiency of mass production with the personalization of specific customer needs," says Cefla North America General Manager Massimo Di Russo. "Our Smart Factory exhibit at AWFS is a must-see demonstration of the best ways to do anything better."
The first element of Cefla's Smart Factory was the cCloner, a tool that realistically simulates a process prior to starting a production line. By creating virtual models of machining steps and "cloning" real time processes in advance, it prevents inefficiencies and ensures that production requirements can be achieved without error. Empowered by such quick and realistic simulation, a woodshop can adjust parameters upfront, prevent potential bottlenecks, and maximize efficiency in product changeovers and in processing different batches. The Smart Factory's cTracker software also helps minimize downtime and boosts production efficiency. At power-up, cTracker displays a view of the line synoptic, enabling a supervisor to examine details of individual machines, as well as look into such factors as alarms and formulas, and make appropriate adjustments. In addition, cLink, fills the gap between ERP and cTracker so that data retain their value over time and can be used to optimize future workflows. The final element in Cefla Finishing's cohesive Smart Factory was Smart Contract, an evolution made possible by the company's worldwide presence and resources. Like an engine kept idling, Smart Contract lets Cefla service experts instantly accelerate to prevent a problem, provide a solution, or ensure improved performance, scaling up or back to match a customer's most pressing needs at a given time.
If one visits Cefla's official website, they'll also learn about how the company is innovating and integrating digital printing forlaminates and plastics, as well as wood surfaces. For example, OMNIDRY provides fully automatic management of piece height while retaining all the outstanding characteristics of a standard Cefla vertical oven. Super-fast Smartedge allows an operator to paint and sand the edges of straight and shaped panels, changing shapes in about 10 seconds and thickness in 15 seconds – all without having to turn the machine off.
Cefla's Smart Factory was open and showcased their innovations in Booth #8625 at AWFS, July 19 to 22, 2017 in Las Vegas, Nevada. The booth also featured the Mito, CFS, Easy and Pixart machines.