Toolbox OEM 2016 from Microvellum
&nbspTuesday, August 25, 2015
The New Render Engine
One of the most significant advances of Toolbox OEM 2016, compared to previous versions, is the brand new rendering engine called Rapid RT. This new engine provides users the tool to produce high quality rendering in a short amount of time and with minimal setup. Even beginner designer can create great results after a few minutes exploring the set up options.
Simplified Rendering Presets
Render presets enable to you specify the render quality, either by the number of iterations or the quality. For quick results, select from the default presets. You can choose from low, medium, or high quality. If you want to set a time-frame for rendering, select from the coffee-break, lunch, or overnight settings.
The Lunch break setting will render for 60 minutes, and the overnight setting will render for 12 hours. In most cases, depending on your computer specs, 10 minutes is sufficient for lower resolution or 60 minutes for high resolution. You can specify the exact size of the output you need or choose from preset sizes, for example 1980 x 1080 HD or 5100 x 3300 at 300 Dpi.
The new settings and presets are much easier to understand than previous versions.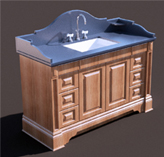 Render Environments
The most impressive feature of the new Rapid RD rendering engine is the Image based Lighting (IBL) environments. Switching between the lighting effects is simple and doesn't take much time.
Tags: MICROVELLUM, new rende engine, toolbox OEM