Treefrog launches new prefinished veneer laminates: Treefrog Open
&nbspWednesday, June 27, 2018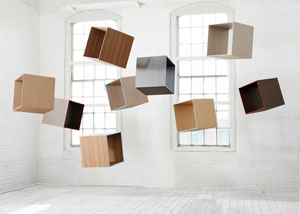 "Open to possibility. Open to design. Open to creativity.Introducing Treefrog Open, 8 new prefinished veneer laminates that are open to your next project" – Treefrog.
Eminently specifiable, breathtakingly beautiful, and wonderfully consistent, Treefrog Open includes trending neutrals in white oak and grey oak, as well as several shade of popular walnut.
Many of these new veneer laminates feature Treefrog's popular "groove" surface, a deeper and more authentic texture. Treefrog Open offers several distinctive fine grain wood looks as well as new, wider planked veneers.
"To select new materials, we created a matrix (see below) of our entire Treefrog collection, and filled in areas where we saw trends happening," says Creative Director and President Geoff Schaefer. "The result means expanded choices in popular lighter and awalnut veneers. It's our most significant Treefrog introduction in years." Geoff added further.
Treefrog also partnered with laminate and interior design material icon Hans Mutzke to create the collection. "Hans has so much insight into color, trends and the market, his experience has been immeasurably helpful in creating this launch," says Schaefer.
According to Mutzke, "the opportunity to partner with Treefrog and work with their Italian supplier was a great exploration of worldwide veneer trends."
All Treefrog veneers offer a consistent and reliable selection in design spaces of any size, which means that sheet after sheet will look the same, which is important in large spaces, and multi-location projects like retail stores, restaurant chains, hospitality spaces, cabinetry and anyplace where consistency in appearance is important.
Plus, Treefrog's unique process uses faster growing, and more commonly occuring tree species to create the look of more exotic and sometimes endangered tree species without having to harvest those trees.
What's more, Treefrog is made in Italy, and is manufactured to European worplace and environmental standards. It's stocked in the USA by Treefrog and generally readily available through their nationwide distributor network.
Also, treefrog is going to showcase this collection at IWF (Booth #2100).