Uniboard highlights top 5 interior trends
&nbspThursday, February 9, 2023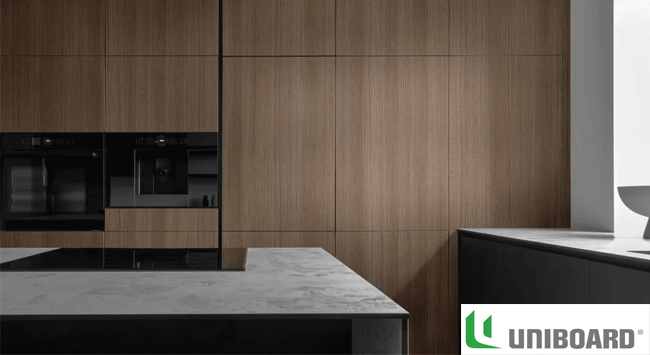 Uniboard presents top 5 interior design trends for the year 2023 – with a sustainable approach. Using sustainable natural materials, such as decorative wood composite panels, is a long-standing trend that embodies the philosophy of sustainable development. The trends this year follow this guideline of more thoughtful choices. Here are the top 5 trends in interior design materials from Uniboard :
Timeless, durable materials
Colors and materials that will allow for appreciating the decor for a long time and adapt to future directions – that defines the new Moments collection. The choice of materials is focused on sustainability and its timeless colors will serve as the bases for years to come, allowing designers to create atmospheres that allow us to enjoy precious moments in the company of our loved ones. K90 – Eclipse, K96 – Tektonik, and L08 – Frost charm us with their neutral and natural character.
Warm colors and textures
Uniboard seeks to reproduce the captivating atmosphere of the forest; walnut and mahogany, with engineered wood and at a lower cost. Trust on Uniboard's new color range – K87 – Calla, for a slightly more rustic chic style, or the L09 – Ioniq, which has a linear texture and is more suitable for a more modern style.
A look of natural wood
The impression of white oak embellished with textures such as rattan and linen is a good choice of materials to create the sought-after Japandi atmosphere. Here are the colors from Moments collection to recommend: The K07 – Dew Drop for its soft, simplistic hue, the K89 – Cosmos, which goes perfectly with any decor, the L05 – Natura for its warmth that reminds of sunsets by the sea and K97 – Zinc for its linear wood grain.
Linear wood grains affixed vertically
We now opt for softer wood grains, linear and affixed vertically. For lighter shades, the following colors fit fab: L04 – Flavie, L10 – Flux, and K91 – Chicory. For a slightly warmer shade, opt for the following colors: L07 – Taupe, L06 – Ecru, and K95 – Atom.
Earthy and unconventional colors
This year, vibrant colors give way to more earthy colors. Terra cotta and terrazzo are increasingly popular. These are appropriate choices when creating decor inspired by the hot, arid climate of Mediterranean shores homes; the new solid colors, K84 – Quietude, K85 – Solace, and K86 – Serenity.
Read more news on Uniboard
Tags: 2023, interior designs, interior trends, Moments collection, uniboard, wood, woodworking, woodworking and manufacturing, woodworking event, woodworking industry, woodworking innovations, woodworking USA