Uniboard's Nobella and Brushed Elm now available in new format
&nbspMonday, March 15, 2021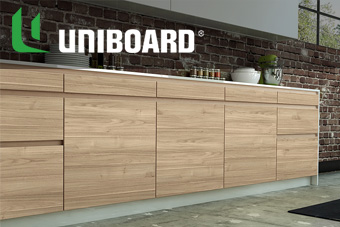 Uniboard has added a 5'X9' format to its Nobella and Brushed Elm Thermally Fused Laminate (TFL) textures. Uniboard's synchronized textures have exceeded market demand and have truly set the standard in the North American TFL and HPL arena. The addition of a 5'X9' format in TFL, a standard North American panel size, allows Uniboard to meet the growing demand in overheight applications and in residential and commercial furniture and cabinet applications.
"The beauty of Nobella and Brushed Elm is that they can be used in various applications from kitchen cabinets, closets, residential furniture, store fixtures and office furniture,'' explains Don Raymond, VP Marketing and US Sales at Uniboard. "Brushed Elm and Nobella add an authentic and unique wood look, with the added benefit of TFL durability. It is ready to use, no finishing or painting required," he adds.
Uniboard's Synchronized Collection is available in 21 colors, three textures, 4'X8' and 5'X9' formats and in a variety of thicknesses making Uniboard the North American leader is embossed-in-register (EIR/synchronized) and high-end textures. Matching HPL laminate is also available.
Tags: Brushed Elm, Nobella, uniboard